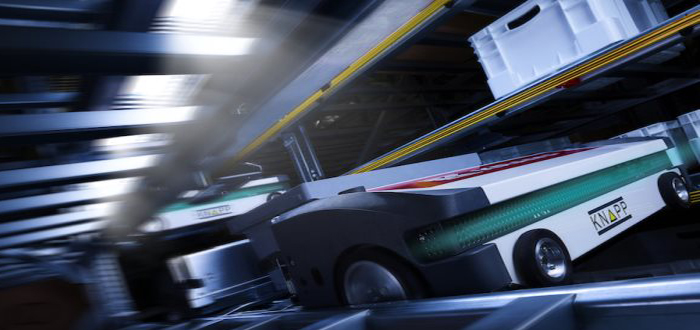 KNAPP to deliver first OSR ShuttleTM Evo to Kramp.
Kramp – supplier of spare parts and services to dealers across Europe in the agriculture, forestry, landscaping and earth-moving sectors – has awarded KNAPP with a contract for the first of its new OSR ShuttleTM Evo systems. The latest evolution of KNAPP's shuttle technology is being installed in two of Kramp's distribution centres, in Germany and the Netherlands.
OSR ShuttleTM Evo offers the highest throughput and storage density on the market
Beginning as a one-man operation, the Kramp group has grown to become the largest technical wholesaler in Europe. With positive business developments and promising growth targets, Kramp decided to reorganise its logistics. The company wanted its distribution to be in keeping with its slogan, "It's that easy", to ensure simple and efficient handling of more than 500,000 products for overnight delivery to customers. To turn this vision into reality, Kramp – which had already worked with KNAPP to realise an automated solution for its facility in Denmark – selected KNAPP's innovative OSR ShuttleTM Evo.
One-touch picking
Regardless of the sales channel, all stock in the new solution is picked according to the goods-to-person principle. KNAPP's ergonomically designed 'Pick-it-Easy' workstations allow intuitive operation with fewer errors. Designed with large glass areas, the distribution hall is flooded with daylight and, after 'one-touch' order picking, customer orders are immediately made ready for shipping.
Partnership
Eddie Perdok, CEO of the Kramp group, is keen to stress the collaboration in the project: "With KNAPP, we have found a strong, innovative partner who has perfected the shuttle technology through years of experience." Heimo Robosch, Executive Vice President of KNAPP AG added, "The new OSR ShuttleTM Evo features a compact construction with a reduced conveyor system. The system can be scaled as desired. Kramp therefore has the opportunity to expand the system in keeping with future growth, up to double the size."
Market leader in shuttle systems
KNAPP has made a lasting impact on the logistics market with its pioneering shuttle technology. Experience from 250 shuttle systems installed worldwide ­– with more than 25,000 shuttles – is the foundation for continuous product development and the OSR ShuttleTM Evo sets new standards in quality and design.
Highest throughput and storage density on the market
OSR ShuttleTM Evo combines all the best features from the world of shuttles, resulting in the highest throughput and storage density on the market. New processes ­– such as storage, picking, buffering, sequencing or replenishment – can be integrated with ease. Every shuttle can reach all the storage locations and container lifts on its storage level, allowing the system to provide precise sequencing. As well as optimum system integration based on the warehouse software KiSoft or SAP® EWM by KNAPP as part of an SAP strategy, the OSR ShuttleTM Evo guarantees security, quality and service for the entire system lifecycle. In terms of design, the OSR ShuttleTM Evo features new and distinctive styling. Premium components and an intelligent design merge within minimal space to form a highly dynamic solution that also demonstrates sustainability from product design, through supplier selection, to life cycle management. OSR ShuttleTM Evo can also be expanded flexibly in line with client's unique investment requirements.
Launch at LogiMAT
KNAPP will officially launch its OSR ShuttleTM Evo solution at LogiMAT 2018, which takes place in Stuttgart from 13 to 15 March. KNAPP will exhibit its range of technologies for intralogistics automation on stand B03 in hall 3 of the exhibition.