Intelligent mobile robots have the potential to transform intralogistics performance, writes Frazer Watson, Head of Sales Europe for Hikrobot at Invar Systems.
A shift from fixed automation is taking place, as mobile robots are fast becoming a familiar sight within warehouse and intralogistics applications around the world. Autonomous Mobile Robots (AMRs) do not require external infrastructure to navigate a site. Instead they use integral sensors and cameras. With declining costs of this navigation technology and customers seeking solutions offering greater flexibility, global tech market advisory firm ABI Research forecasts that total shipments of AMRs will reach 2.9 million by 2030.
The leading AMR producer in China, Hikrobot has been driving the movement to transform intralogistics globally having commenced international installations three years ago. Of the 15,000 Hikrobots deployed globally today, some 2000 are shipped outside of China to markets across Asia, US and Europe.
Employing over 1000 staff, including over 800 engineers, last year Hikrobot manufactured approximately 8000 robots, with a current capacity to produce 1000 robots per month. Planned expansion to the production facility will boost capacity to 3000 robots per month, to support a rapidly growing share of markets across the globe.
This of course includes Europe and the UK, where the number of companies understanding the productive power and cost efficiency of these platforms is ramping up. Hikrobot's first UK application is at Superdry. The global fashion brand is leveraging the flexibility of intelligent mini-robot carriers to transform order picking and put-away at its UK hub – just part of a phased rollout of goods-to-person robotics that will boost productivity across its international network of multi-channel fulfilment centres.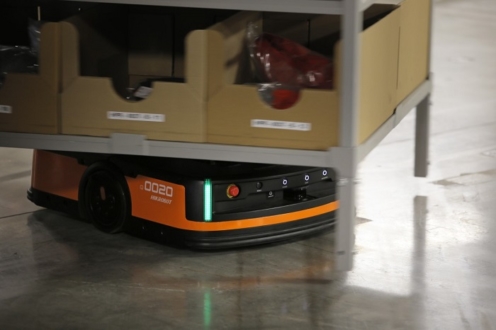 Ecommerce companies along with manufacturers are the two sectors currently trailblazing the uptake of this technology, but any company, large or small, with a warehouse and requirement for materials handling can benefit – whether they are in retail, apparel, automotive, electronics or third party logistics (3PL). With the AMR platform, robots can be added in stages as required, meaning companies can start out with a low capital expenditure
solution for three critical applications: goods-to-person order picking in the warehouse; movement of materials to production line or around warehouses; and sorting, particularly for parcels in logistics and ecommerce operations.
Given that all customers are generally new to this technology, many will ask: what marks out a good AMR? Productivity boosting performance is the prime advantage. The new generation of technology can move high load capacities at great speeds. Labour cost savings and efficiency improvements are clearly demonstrated at a client that is one of the world's largest security product manufacturers. It operates Hikrobots for a variety of functions such as inbound delivery, outbound delivery, stock transfer, allocation, and inventory for raw materials, semi-finished products and finished products. Compared to a manual warehouse, this smart and agile warehouse solution reduces labour cost by 58% and improves efficiency by 84%.
Companies naturally need technology that is reliable. Hikrobot, for example, will only release a solution to the market once it has completely verified its stability. Components and fully assembled robots are thoroughly tested to ensure that each robot shipped to the customer is fully compliant and reliable.
AMRs offer a highly flexible solution that is also easy to replicate in warehouses across an organisation. For example, many 3PLs with multiple sites, often globally, can implement the same proven and successful 'universal solution' across their estate. Furthermore, if business circumstances change, such as during peaks like Black Friday and Christmas, it is simple to reconfigure the software and add or reduce the number of robots on a site as required.
Software is a core technology to manage the robots and maximise control and performance. Getting large warehouse management software (WMS) vendors engaged to write the interfaces for materials handling systems can sometimes present a hurdle for any automation project. This is why most big automation companies offer their own warehouse control software (WCS) with their hardware – in the UK, Invar Systems writes the WCS for Hikrobot platforms. When docking with a company's upper system intelligent AMRs deliver easy to query digitised warehousing. The AMRs produce standardised data, free from human error to feed AI and big data technology. With this information, companies can optimise business processes such as labour resource management – for example redeploying people to where they can be most productive – boosting operational performance.
Such is the case at DHL's North Asia Hub, located at Shanghai Pudong International Airport. Here, up to 20,000 documents and 20,000 packages are processed per hour. A Hikrobot warehouse solution, comprising a relatively small fleet of 10 intelligent AMRs, saves time and labour for locating rush-order goods by removing the constraints of having people enter a transfer area to find goods manually. The process now requires only one employee to fulfill a daily operation.
The provision of a WCS is particularly important for smaller automated materials handling projects or the first steps of a modular development, where the cost of providing an interface with a WMS can be budget-breaking. Invar can also provide a WMS if a company requires one. And because Invar installs and supports the Hikrobot systems in the UK, we
can manage the whole suite of software locally. Customers get a UK phone number and we can get people to site within a couple of hours.
Ultimately an AMR platform provides a quick, cost effective, and modular system that improves productivity in a DC at a cost competitive price – and will allow the customer to have an enormous amount of input into configuration. This compelling combination gives the kind of competitive edge that appeals to operations of all kinds around the world.