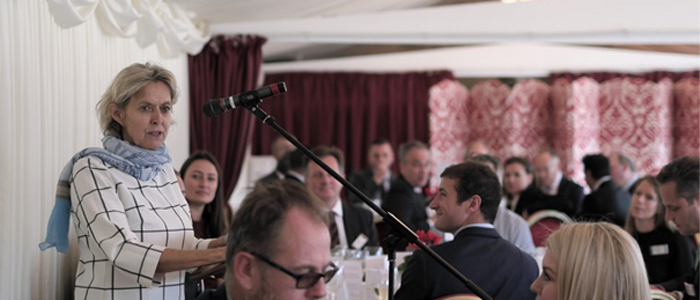 Logistics industry leaders hear Brexit planning updates at UKWA's Parliamentary Lunch
Over 100 senior personnel from UKWA member companies, key suppliers to the logistics industry and supply chain directors from some of the leading global brands that belong to UKWA's Logistics Users Group – including British Airways, Mercedes-Benz, Nando's, Tata Global Brands and Urban Outfitters – attended UKWA's (the United Kingdom Warehousing Association) 2019 Parliamentary Lunch this week.
The event, which took place at the House of Lords on October 9th, brought warehousing and logistics industry professionals together with influential Government advisers, so, it was perhaps no surprise that Brexit was on the agenda.
Guest speakers, including Tony Thomas, Deputy Director of the pan Government Border Delivery Group and the Home Office's Carrie Golding, updated members on the Government's preparations for the UK's planned departure from the EU on October 31st.
Tony Thomas explained that the largest public information campaign since the Second World War is currently underway in an effort to ensure that companies who trade within the EU are familiar with their obligations when sending or receiving goods across borders.
Tony Thomas said: "It remains the case in law that the UK is set to leave the EU on 31 October 2001, so It is important that businesses prepare themselves for that date and do not assume that they can put off preparations."
There was some comfort for companies who fear that the UK's exit from the European Union will result in a reduced labour pool as migrant workers choose to return home – the so-called 'Brexodus' effect, from Carrie Golding. Ms Golding reported that, so far, some two million EU nationals had applied for 'settled status' that would enable them and their families to stay in the UK after it leaves the Union.
Ms Golding also said that, following representations from UKWA and other trade bodies, the Government is reconsidering its £30,000 immigrant salary threshold. "There is concern that setting the threshold at £30,000 could severely restrict the influx of key workers across a variety of industry sectors," she said.
There was also some welcome upbeat views on the economy from Senior Economist at Colliers International, Walter Boettcher. "Favourable demographics over the next 5 to 10 years, will see the UK continue to capture its share of global investment," he said.
Meanwhile, Kevin Mofid, head of industrial research at property consultants, Savills, shared his views on the ways in which the widespread economic, political, demographic and technological upheaval is impacting on the future of warehousing and last mile logistics. Among the changes Kevin spoke about were a growing requirement for more delivery facilities closer to major population centres and an increased emphasis on access to labour markets when considering the optimum location for a warehouse or distribution centre.
UKWA's CEO, Peter Ward, commented: "The House of Lords is a fitting venue for an occasion with so many prominent members of the UK's logistics community as well as key policy influencers and we are grateful to our President, The Baroness McIntosh of Pickering, for hosting us.
"As the voice of the logistics industry, UKWA is constantly exploring how best it can work collaboratively with the policy makers and other stakeholders to overcome the challenges confronting our sector and the Association has been actively advising the Government on our industry's requirements throughout the Brexit planning process.
"Our Parliamentary reception provides a chance for our members – the people who, after all, will be at the 'coal face' when it comes to ensuring that the UK's post-Brexit supply chains don't break down – to meet with government advisors and discuss any concerns or uncertainties they may have."
UKWA's 2019 Parliamentary Lunch was sponsored by Kronos – the workforce management solutions specialist.