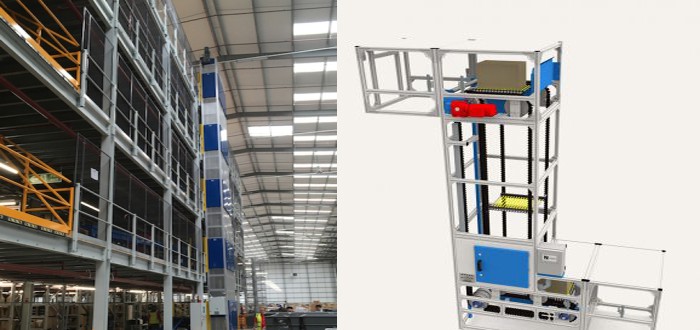 Missguided fashion gets a lift from Nerak.
Nerak Wiese has supplied two vertical lifts to XPO Logistics, operators of the new Missguided warehouse in Manchester.
Multi-channel fast fashion retailer, Missguided, opened its brand-new distribution centre (DC) in Trafford Park in July 2016. The facility is a joint investment with supply chain partner, XPO Logistics (formerly Norbert Dentressangle), and replaced Missguided's existing facility in Salford, which was at full capacity. The 250,000 sq ft DC – which has been designed to handle Missguided's logistics needs for the next ten years – features mezzanine floors that provide a total floor area in excess of one million sq ft. The facility operates 24 hours a day, seven days a week.
Versatile operation
With the DC featuring four mezzanine levels above the ground floor, the operation required a vertical elevation solution. XPO Logistics commissioned Nerak Wiese to design and manufacture two lifts featuring a unique design. Each lift comprises two independent hoists, each of which has two conveyors – mounted one above the other – and so can handle two loads. The lifts transport cardboard cartons of goods received from manufacturers up to the picking areas on the mezzanines. Here, staff pick orders into totes, which are then transported down to the ground floor by the lifts. In addition, the lifts are used to transport empty totes up to the pick areas, with three totes nested together during elevation. The throughput from the top floor is 250 inbound and 250 outbound loads per hour, per lift.
Specification exceeded
As the lifts are based around rubber chain technology, they do not require frequent lubrication or recalibration. From a service and maintenance perspective, the result is very little downtime, minimizing the associated costs. "This has proven to be a cost-effective and high-quality solution," says Phil Shepherd, Director of Technical Services for XPO Logistics. "The system works well and, in tests, the equipment exceeded the specification, so we are delighted and plan to buy a further two lifts from Nerak."
Left hand image of one of two lifts supplied by Nerak to Missguided's new warehouse in Trafford Park, Manchester.