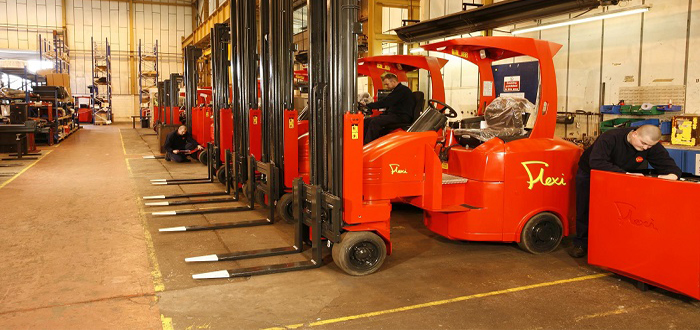 Narrow Aisle announces factory expansion plans to keep pace with growing demand for Flexi trucks
Narrow Aisle Ltd, manufacturer of the Flexi range of articulated forklift truck-based intralogistics solutions, has announced a major investment strategy that will allow the company to significantly increase output at its UK production site over the next three years.
The extra capacity is required to meet the sustained and growing demand for Flexi trucks from third party logistics specialists as well as own-account warehouse operators across a diverse range of industry sectors – both in the UK and worldwide.
John Maguire, commercial director of Narrow Aisle, commented: "There a number of factors that are driving the strong demand for Flexi products. For example, continued growth in the e-commerce-based retail market is leading to further investment in high density product storage and, as Flexis are able to work efficiently and safely within the narrowest aisles without the need for expensive wire or rail fixed guidance systems, they are an attractive proposition at sites where space is at a premium and speed of implementation is critical.
"In addition, the ongoing short supply of modern warehouse facilities is forcing many companies to refurbish and reconfigure existing building stock in an effort to maximize the amount of storage space they have available and free up areas for 'pick and pack' and product returns processing. At the same time, many companies are taking the opportunity to introduce new intralogistics technology and handling techniques to create a much more cost-effective operation."
Narrow Aisle began warehouse truck manufacturing operations in Great Bridge, Tipton, in the late 1970s. The current Victorian-era site was earlier used for the production of industrial railway engines and steam-powered narrow boats. The planned refurbishment work at Great Bridge will ensure that many of the building's original structural features are maintained but the modern factory will optimise quality and production processes.
The project will also include the overhaul and extension of the site's production and spare parts operation, to allow an increased stock handling and pick and pack capacity to provide same-day dispatch of spare parts to UK and Overseas distributors.
In addition, loading facilities are to be upgraded to deliver extra capacity for sea-containers into which Flexis are loaded for shipment to overseas clients. The company currently exports to over 60 countries worldwide and international sales now account for some 40 percent of Narrow Aisle's business.
John Maguire added: "The Flexi articulated forklift truck concept is now well established and as sales continue to grow we have to ensure that our production facilities are able to keep pace with demand. The investment in our UK manufacturing site is a reflection of our confidence in our business and our products."