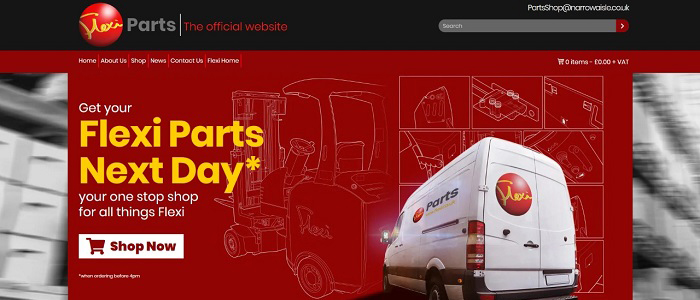 Narrow Aisle launches online Flexi parts store
Narrow Aisle Ltd – manufacturer of the Flexi range of articulated warehouse truck-based space-saving intralogistics solutions – has announced the launch of a dedicated online spare parts store.
At www.flexitruckparts.com Flexi customers around the world will find all the original parts and accessories they need to ensure that their Flexi lift trucks operate at optimum efficiency.
All orders received by 4pm are picked, packed and despatched for same-day dispatch to the UK, Europe or overseas to ensure spare parts are delivered promptly to maximise truck uptime.
In addition, a click and collect option means orders can be picked-up directly from Narrow Aisle's Tipton, West Midlands-based spare parts hub within two hours of being confirmed.
Parts orders can be secured by major credit card payment, while trade customers with an account can confirm orders by email should they prefer to do so.
All Flexi spare parts are covered by Narrow Aisle's no quibble warranty and any items which – for any reason – are unused can be returned and a refund issued to the customer's account.
John Maguire, Managing Director of Narrow Aisle Ltd, said: "www.flexitruckparts.com's clear design, product images and descriptions will help customers identify the parts and spares they need with ease, so anyone looking for top quality OEM Flexi parts is sure to find exactly what they need at www.flexitruckparts.com for immediate dispatch and fast delivery.
"The launch of this new online facility will allow Flexi users to get the parts and spares they need quickly, easily and cost-effectively and is part of our ongoing commitment to global customer support and after-sales care."
More than 9,000 Flexi articulated warehouse truck units are in operation worldwide supported by Narrow Aisle's global network of over 60 authorised distributors.