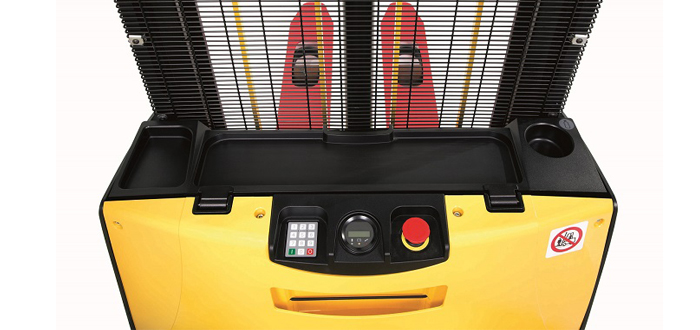 New Compact Stackers for storing, transporting , picking and stacking in tight areas.
Hyster Europe has launched a new series of compact stacker trucks for stacking, storing, transporting or picking in tight spaces.
"The new Hyster® stackers are easy to control and manoeuvre in applications where there isn't much room, particularly in small aisles," says Monica Radavelli, Warehouse Product Manager for Hyster Europe. "The versatile S1.0E-1.2E series can lift up to 1.2 tonnes to 2.38m, or reach heights of up to 4.18m with lighter loads. The stackers offer reliability, while keeping costs under control and using less energy."
Supermarkets or retail operations, for example DIY stores, are expected to benefit from improved productivity in storage areas with operators storing and retrieving goods faster, with less product damage.
"The new Hyster® compact stacker trucks have multiple uses and are ideal for transporting goods to or from a receiving dock or marshalling area, kitting or assembly operations, production processes, or line feed operations," Monica says. "Forks can also be adjusted to an ergonomic working height for order picking."
Operators can work faster thanks to good visibility through the mast, and can clearly see the load arms when collecting and depositing loads. Precise lifting controls further contribute to faster cycles and less product damage. Travel speed is restricted to 6 km/h.
The stacker truck benefits from a robust design for the frame and covers. Sealed connectors and high levels of ingress protection on electrical components contribute to overall reliability, as expected from all Hyster® equipment, and the models are easy to service.
Available with a 1-stage FFL (Full Free Lift) or 2-stage NFL (Non-Free Lift) mast, Hyster Europe offers a number of customisation options including key pad access, cold store versions, several load and drive wheels, Hyster Tracker with either wireless access or wireless monitoring functionality, and more.
For further information, visit: www.hyster.eu