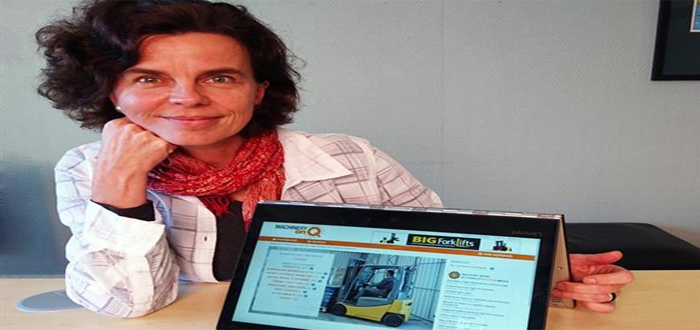 New Forkliftaction marketplace goes live.
ForkliftAction Media today replaced its Marketplace with a new trading platform for mobile machinery, Machinery-onQ (www.Machinery-onQ.com).
The new platform builds on the success of Forkliftaction's long and valued role as a trusted voice within the materials handling industry.
"Machinery-onQ has been built upon this reputation, with the team drawing upon years of feedback from its users and pairing this with the very latest developments in web design," says ForkliftAction CEO Ann Hofmans.
"We wanted to present a unique platform that epitomises the best of contemporary business practices and empowers its users with a productive and hassle-free trading experience," she explains.
Machinery-onQ utilises state-of-the-art technology and intelligence and promotes usability through fresh, uncluttered design, Hofmans adds.
"Our aim was to provide a tool that is both inclusive in scope, through catering to a wide range of equipment, and flexible in reach, allowing traders to sell worldwide, or to target more local markets.
"In the industry today, we see an increasing need for timely deliveries, lean manufacturing and global competition placing extra burdens on the process of acquiring machinery. With Machinery-onQ, business people can source their full range of new, used and rental machines – all in the one place and within just a few clicks."
The new platform features an extended range of equipment. Besides forklifts, buyers will find a range of container handlers, warehouse movers and stackers, tow trucks, sweepers and even aerial work platforms. Finding the right machine for each application is made easy for users through the platform's comprehensive set of search filters.
Machinery-onQ also allows sellers to advertise their machine listings worldwide or within specific regions.
"Years of working with our customers made us realise that dealers want a trading platform that is equally productive for those looking only to sell to smaller regional markets as for those who are looking to target a global market," says Hofmans.
Current regions include The Americas, Europe, Asia and Oceania. As Machinery-onQ develops in all parts of the world, new platforms for smaller regions will be added and there are also plans to introduce additional languages.
"One of the main objectives for Machinery-onQ is to shorten the gap between buyers and sellers. Machinery-onQ is imbued with intelligent systems that are capable of connecting users with matching interests," she points out, adding that the new system has intelligent alerts for both buyers and sellers.
According to Hofmans, the new trading platform is only the beginning of a transformation of the materials handling business platform started almost two decades ago: "Machinery-onQ is an ambitious project. We have many more features and additions already designed and planned for the near future."