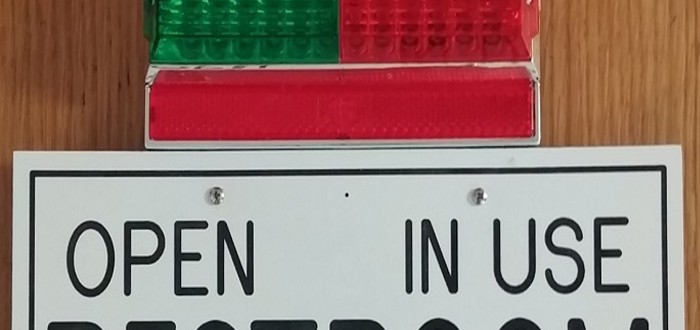 New Restroom/Toilet Lock Helps Take Care of Business.
Heads-up Lock Company has taken a wireless approach to taking the guesswork out of the age-old question: "is the single stall restroom occupied or not?"
Obviously, no one is exempt from having to go. So, what can be done?
Most office building and warehouse managers know that their employees comfort is important to promote increased efficiency. But most are not aware of how much travel time it takes for employees to go to the restroom. The journey of getting to the restroom involves time and in turn money. Walking to the restroom which sometimes is shared with one or several offices is one thing, but having to wait for it because it is in use can be an inconvenience and even costly. In some situations, the restroom can be hundreds of feet away and/or out of sight. Not knowing if it is available is a time consuming problem. One may ask, "why can't I know if it is open ahead of time before I start my trip?" "It would be a great convenience and would save a lot of embarrassment having to jiggle the knob and wait outside the door."
The Heads Up Lock is user-friendly. It conveys a signal to waiting users away from the area whether the restroom is occupied or vacant. The eye-pleasing red and green wall light can be clearly seen from a distance (up to 200 ft.). This patented and affordable device is hands-free, and can be installed by any qualified handyman in all single stall restrooms.
Says Bruce Roberts inventor of the Heads Up Lock, "There is a problem with not knowing if the restroom is available, especially in office buildings where one or several offices share the same single stall restroom.
This is a win-win solution to both the employer/employee relationship when it comes to using the restroom. The employer wants greater efficiency of time for sure. On the same token, the employee wants convenience and comfort."
"Our business is to make it convenient to do your business."
The calming red and green indicator light takes up minimal space on the wall. It is specifically designed for increasing traffic flow in public venues including restaurants, coffee shops, office spaces, retirement homes, and retail stores.
So, put an end to the restroom guessing game.
The Heads Up Lock is guaranteed for one full year or your money back.
www.headsuplock.com .