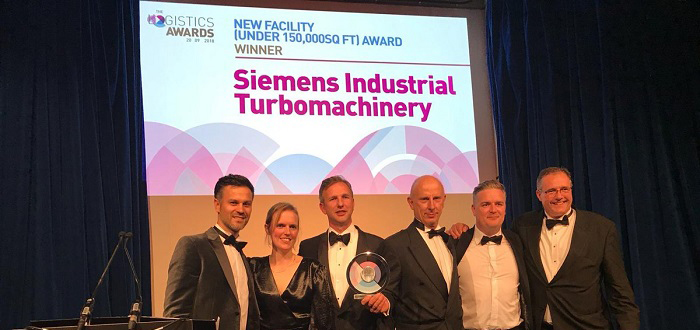 New Siemens Teal Park site kitted out by BITO wins ShD Logistics Award
Siemens Industrial Turbomachinery has won the ShD Logistics Award for New Facility (under 150,000 sq ft) for its new Global Service Operation Centre (GSOC). BITO Storage Systems played a key role in fitting out this facility with innovative storage and order picking solutions. The award was presented during the prestigious event held at The Swan, Shakespeare's Globe on 20 September 2018.
Edward Hutchison, managing director of BITO Storage Systems commented: "I am very pleased to congratulate Siemens Industrial Turbomachinery and all the materials handling partners involved in this exciting project. I am particularly proud of the role played by BITO's broad capabilities and experience in helping the project deliver Siemens' goals for its new facility."
Siemens Industrial Turbomachinery designs, manufactures and services small industrial gas turbines, with an installed fleet of over 3,500 units across 90 countries. 1500 of these remain operational with key customers in the oil and gas industry, industrial customers, hospitals and paper mills.
The company invested in the new GSOC next to its overhaul facility at its Teal Park site in Lincoln, to promote health & safety, deliver reduced cycle times and costs while expanding service capabilities. The future-proof centre was delivered on time and on budget and is now facilitating growth without needing to increase headcount. The centre ensures stock availability and the same- or next day response to help Siemens' customers minimise downtime.
BITO provided a storage and order picking solution that included an impressive three-level high engine rack, providing 72 locations. Its bespoke design using BITO's standard beams and uprights, enables engines weighing up to 6-tonnes, and stored on 1-tonne pallets to be located on the first beam level as well as ground level. In addition to its pallet racking, live storage and plastic containers, a further innovative part of BITO's solution was the first UK installation of its LEO Locative driverless internal transport system to separate vehicle and human work areas, while providing swift and safe transfer of items between Goods In, storage areas and the packaging stations.