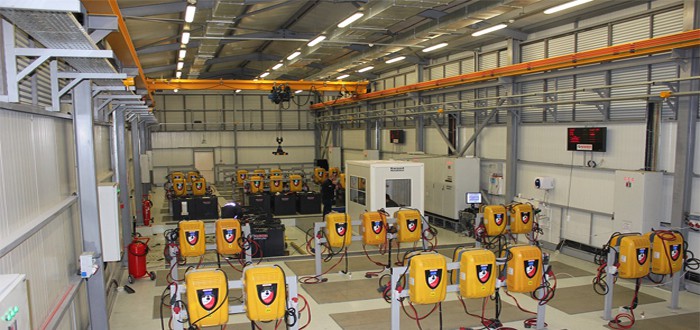 New Whitepaper unravels the complex motive power battery choices facing factory and warehouse vehicle users.
EnerSys® (NYSE:ENS), the global leader in stored energy solutions, has released a new whitepaper to expertly guide factory and warehouse vehicle users through the complex factors that impact their motive power battery choices. While the central focus of the whitepaper, entitled Factors influencing battery choice for warehouse and factory vehicles, is on the various lead-acid technologies now available, it also compares these with the advantages, drawbacks and future potential of lithium-ion (Li-ion) batteries. The whitepaper can be downloaded from : www.discovernexsys.com
"This paper is essential reading for all motive power battery users," comments Martin Walsh, TPPL Product Manager EMEA at EnerSys Motive Power. He continued: "Not only does it unravel the technical differences and comparative merits of the major types of motive battery to ease decision-making, it also highlights the many different ways in which making a truly informed choice can reduce total cost of ownership."
Automated and laser guided vehicles, forklift trucks and other vehicle types increasingly rely on electric motors rather than internal combustion for motive power. To fully benefit from their advantages, however, it's essential that users source the best possible battery technology for their situation. The choice, though, is complicated by the large number of solutions that are currently available, the wide variety of different applications, and the rapid and continuing evolution of the technologies involved.
Throughout its analysis and comparison of these technologies, the whitepaper reflects the fundamental need of all motive power battery users to reduce Total Cost of Ownership (TCO). This is critical, because batteries have a major impact on TCO, not just for one, but for several technical and operational reasons.
Accordingly, the whitepaper starts by reviewing the challenges that factory and warehouse vehicle users experience on adaily basis. It also examines criticial factors, such as how to overcome the cost and delays of changing a discharged battery during a multi-shift cycle, and what to consider in order to optimise the resources needed for setting up a dedicated charging room – to give just two examples.
The whitepaper then reviews the relative merits of the primary types of lead-acid technologies in meeting these challenges – from well-established and trusted flooded cell types, through to Gel and Absorbed Glass Mat (AGM) VRLA batteries. It also examines an innovative solution known as Thin Plate Pure Lead (TPPL) that has helped major end users in the automotive manufacturing sector, such as Daimler, and large food retail organisations, such as Metro Group, realise a practical and affordable alternative to conventional lead-acid designs. These technical considerations are backed by field trial results obtained from within a ceramics manufacturer, and a number of real-world case studies. Finally, as no consideration of motive power options would be complete without including Li-ion, this technology, with its benefits, drawbacks and future potential is also discussed towards the end of the whitepaper.