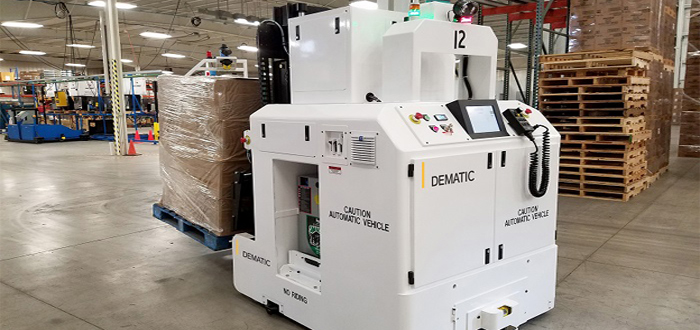 NYPRO SELECTS DEMATIC SOLUTION TO TRANSPORT RAW MATERIALS AND FINISHED GOODS.
Healthcare Packaging Company to Leverage Automatic Guided Vehicle System in Illinois Facility
Dematic, a leading global supplier of integrated automated technology, software and services to optimize the supply chain, announced today that Nypro, a leading design and manufacturing services provider to the healthcare and pharmaceutical industry, has selected Dematic to supply an Automatic Guided Vehicle (AGV) system for the company's manufacturing facility in Gurnee, Illinois (near Chicago).
Nypro, a Jabil company, wanted to enhance safety and automate the process of transporting raw materials and finished goods from clean room manufacturing to deep lane storage and staging for shipping. The AGV system will transport raw materials packaging to manufacturing staging areas. From manufacturing, the AGV system will transport the finished goods from the clean room pickup areas to deep lane storage in their new warehouse.
To further enhance the safety of employees, the AGV system will also feature an aisle cop crossing system to keep pedestrian traffic away from the AGV system while the AGV travels across pedestrian crossways. Integration with the facility's fire alarm system will stop AGV movement if fire alarms go off, eliminating interference with people leaving the facility.
"We were looking for a supplier with a complete digital and physical solution to support our facility architecture today and in the future," said Daren Tarczynski, supply chain manager at Nypro. "Dematic's ability to develop the right solution for our needs, from a mechanical perspective, and interface with our existing systems made them the right choice for us."
The system is expected to be operational in spring of 2018.