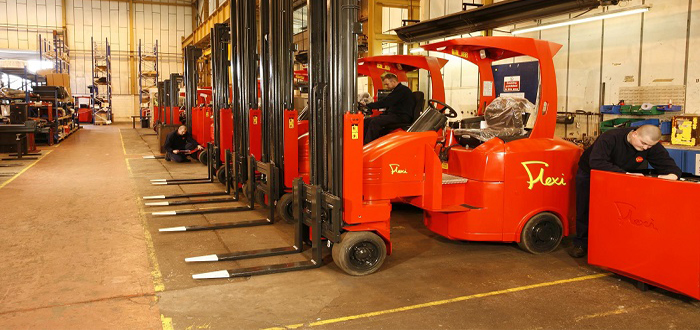 Open day guests are among the first to see a 'tour de force' in articulated lift truck technology
Narrow Aisle Ltd – the VNA materials handling solutions specialist – recently hosted a series of distributor open days at its UK Flexi manufacturing plant in Great Bridge, West Midlands.
Attended by some 200 visitors, the open days gave guests the opportunity to see a live presentation of the latest additions to the Flexi range of articulated forklift trucks – the Flexi LiTHiON.
Powered by lithium-ion batteries, the Flexi LiTHiON features state-of-the-art digital electric motor technology to control all drive, hydraulic and power-steering functions and is described by Narrow Aisle Ltd as a 'tour de force' in articulated lift truck technology.
"The development of digital multiplex control systems for our battery powered trucks' key functions delivers a more integrated performance and results in fantastic reliability and higher productivity, combined with significantly reduced operating and maintenance costs," said Narrow Aisle Ltd's managing director, John Maguire.
With all drive, hydraulic and power-steering functions digitally controlled and integrated with the truck battery's advanced software systems, the Flexi LiTHiON is able to perform at full power throughout a typical shift with no drop off in performance levels. This ability to distribute consistent power levels means maximum efficiency is achieved even during the busiest multi-shift operation.
Furthermore, Flexi LiTHiON trucks require no battery maintenance – the truck monitors the battery function constantly and reports the battery status in real-time. And the combination of fully integrated digital motors and lithium-ion power is so effective when it comes to eliminating wasted power that truck availability is typically increased by 25 per cent every day.
During the open days, Narrow Aisle also demonstrated the grocery retail order picking capability of its FlexiPiCK layer picking system.
Customers in the USA and the UK have adopted the layer picking concept as an effective way of reducing manual handling fatigue and accuracy in high volume case picking facilities. Layer picking allows retail customers to distribute fully locked multiple layers of products safely and effectively on pallets. Layer case pick rates of over 1500 per hour can be achieved with the FlexiPiCK and, importantly, the unit requires no additional infrastructure investments to implement. Users have achieved payback for the system in fewer than nine months.
Guests were also given a tour of Narrow Aisle's Flexi production facility. The current site in the 'Black Country', which Narrow Aisle has occupied since the mid-1980s, has recently benefited from a sizable investment that has increased production capacity to allow the sustained and growing demand for Flexi trucks – both from within the UK and worldwide – to be met.
John Maguire added: "As sales of trucks in the Flexi range continue to grow, we have to ensure that our production facilities are able to keep pace with demand. The recent and ongoing investment in our UK manufacturing site is a reflection of our confidence in our business, our products and our hugely skilled engineering teams."