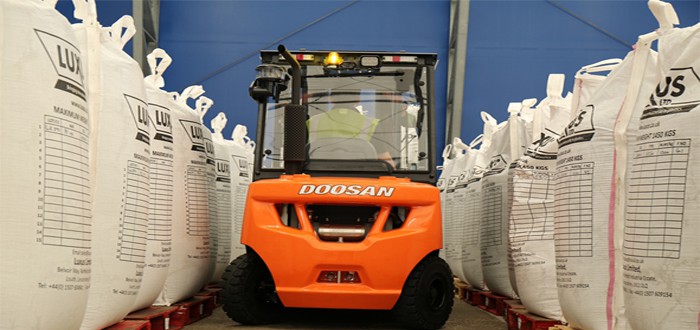 Plastic Fantastic: Luxus Continues Growth With Windsor.
One of the UK's most advanced technical plastics compounding and recycling companies has renewed their existing fleet of forklift trucks in a bid to boost productivity and reduce fuel emissions at their Lincolnshire facility.
Luxus Ltd was founded in 1965 to provide the then emerging plastics industry with solutions for plastics waste. The firm's first laboratory opened in 1982, and has rapidly grown into a business that takes pride in reusing plastics that would otherwise be sent to landfill.
A state-of-the-art Technical Centre replaced the laboratory in 2014, and today, the centre enables the re-engineering of plastic waste materials into high performance plastic compounds. The business now supplies over 45,000 tonnes of the quality assured compounds each year for a diverse range of industry applications, including those in engineering, automotive and packaging sectors.
The technical plastics compounder was the first, and still is the only, UK business to achieve approval for its recycled grades in car interior trims. The busy Louth site also now includes temporary storage to accommodate the finished goods. "We recycle a huge range of plastics in our advanced on-site facilities," says Peter Laking, Luxus' Maintenance and Project Engineering Manager. "It helps our customers to proactively manage scrap plastic, reduce costs and minimise their own environmental impact."
In order to reflect their environmentally friendly culture, Peter was keen to ensure the exhaust emissions from their materials handling equipment were kept to an absolute minimum – and Windsor Materials Handling helped them make an informed decision through a unique test.
Branch Manager for Windsor's Sleaford office, David Fletcher, explains: "Luxus wanted to ensure they selected the forklift with the lowest emissions, so we suggested they do a simple test with a clean sheet of paper on the exhaust pipe of each machine."
The new Doosan D25S-7 Series came out on top, with its piece of paper finishing the test as clean as ever, while its rival trucks left soot behind on the sheet. The truck's diesel engine is built with Ultra Low PM Combustion technologies to meet Euro Stage IIIB emission regulations, providing a sturdy performance and excellent fuel efficiency.
With two engine settings – STD mode and ECO mode – Luxus operators can choose the setting to suit different applications. Standard Mode delivers the highest level of performance, while the ECO mode reduces fuel consumption by an extra 5%.
"We are genuinely very pleased with the performance of the new kit and the support from Windsor. We may be a large business and significant employer in the town, but we still rely on suppliers to give us great support and understand our needs. It's been quite a few years now and the relationship is still going strong!"
A national company, Windsor's Sleaford branch covers industrial centres across the region, from Boston to Grantham, Skegness to Newark, in addition to Louth and the surrounding area. "We've been serving the area for quite a few years," adds David Fletcher, "and throughout that time we've been able to see customers like Luxus grow and flourish. Obviously, requirements can change over time, and we like to think of ourselves as responsive and flexible, so being able to refresh the fleet once more and for it to be very well received is of course tremendously satisfying."
Windsor has been an authorised distributor for Doosan since 2009, offering a brand that meets the operational and environmental needs of businesses across the UK. In addition to supplying a wide range of materials handling equipment, Windsor also specialises in access platforms and has developed throughout its 40 years of operation to offer a single supplier solution.
"Our business is partnership driven," says Windsor Managing Director, Stephen Burton. "We know that means providing the best possible deal and backing that up with great support. We are able to offer flexibility where other companies cannot and we hold dearly the ability to listen to our customers."
Over fifty years since being founded, the Luxus head office and production facilities in Louth is home to over 150 dedicated individuals and the company is recognised as one of Europe's foremost polymer recyclers and plastic compounds specialists. Luxus is also committed to innovation and continually invests in the latest recycling and manufacturing technologies.
David Fletcher concludes: "The ongoing relationship with Luxus is testament to our business being driven by partnerships, and our commitment to providing the best possible deal while backing it up with great support. As one of the leading independent materials handling suppliers in the UK, we are able to offer flexibility where other companies cannot, and we hold dearly the ability to listen to our customers before providing an unbiased consultative approach."