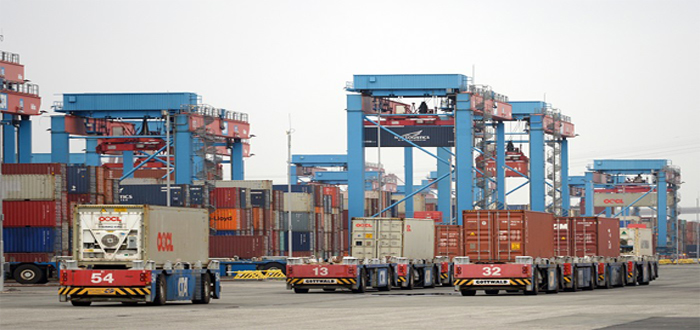 Port Digitization – Aspiration vs. Reality.
CeMAT Port Technology Conference 2018
Staged within the context of CeMAT, the international CeMAT Port Technology Conference makes its debut on 25 April 2018 from 10:00 a.m. to 4:30 p.m. Speakers from around the world will highlight the potential of continuous digital processes for ports, reporting on the current situation and presenting tried and tested solutions. Approximately 150 attendees are expected. Attendance is free for all CeMAT and HANNOVER MESSE visitors.
Efficient sea and inland ports are key interfaces in intermodal transport – transport which is vital to industry and trade. Experts from industrial and transport enterprises estimate that 40 to 50% of total transport costs originate in ports. This share of the overall cost of transport chains translates into enormous savings potential for inland and sea transport carriers – provided they are capable of implementing consistent digitization strategies in the direction of a so-called "electronic handshake" when moving goods. Manufacturers and retailers have insisted for a number of years that any "Industry 4.0" digitization strategy also needs to be adopted by logistics service providers and ports. But seaports themselves are facing a series of challenges due to the continuous increase in the size of container vessels and the consequent infrastructure capacity bottlenecks as well as a shortage of skilled workers in the transshipment sector and new environmental regulations. All of these factors are a frequent cause of problems in the quality of service and reliability in transshipment at the seaport level
Speakers at the international CeMAT Port Technology Conference – taking place for the first time in co-location with HANNOVER MESSE – will delve into the causes and practical impact of existing performance deficits in ports, while at the same time exploring tried and tested solutions that consistently apply digital processes. The list of speakers includes Stephan Muhle, Undersecretary in the Lower Saxony Ministry for Economics, Labor, Transport and Digitization and Daniel Hosseus, Senior Managing Director of the Association of German Seaport Operators (ZDS), along with representatives of the shipping industry and the transport and service sector, plus a terminal operator.
The conference is aimed at trade fair visitors from industry and the retail/wholesale trade as well as from the logistics industry and ports. In discussion forums and at the subsequent get-together, guests will have the opportunity to ask questions and network with conference speakers and other attendees.
The conference will be moderated by Hans-Wilhelm Dünner, publisher of SCHIFFAHRT HAFEN BAHN UND TECHNIK, the magazine for intermodal transport and logistics based in St. Augustin, Germany.
The conference program is available at: www.cemat.de/en/supporting-program/specials/cemat-port-technology-conference