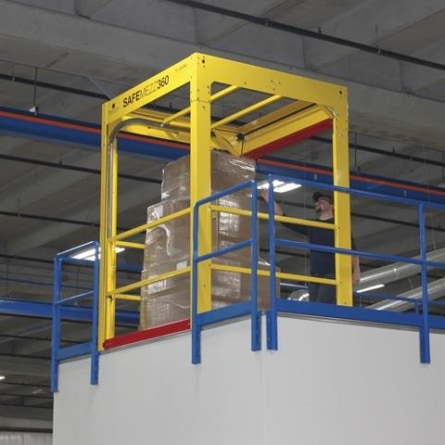 PS Doors launch mezzanine safety gate and its new Loading Dock Safety Gate at this year's ProMat
PS DOORS will showcase its ANSI-compliant SAFEMEZZ360™ mezzanine safety gate and its new Loading Dock Safety Gate at this year's ProMat show in Chicago, Illinois from April 3-6, 2017. As part of PS DOORS' Safety Access™ line of products, both gates are designed to reduce accidents and increase material handling efficiency. More information will be available for both products, and the SAFEMEZZ360 will be on display at booth No S671.
The SAFEMEZZ360 meets both ANSI and OSHA safety railing standards. It utilizes a counterbalanced gate system to provide 360 degrees of mezzanine ledge protection. In addition, it features a slam-proof, cushioned dampening system that protects personnel from dangerous and noisy slamming. This gate opens and closes smoothly on 2-inch nylon rollers and track system, allowing easy, one-handed operation. It's constructed of heavy-gauge steel with a durable powder coat, safety yellow finish that's ideal for repetitive use. It bolts easily into place on a mezzanine and is available in single- or double-pallet widths.
The Loading Dock Safety Gate lifts a full 90 degrees (without pinch points) to allow clearance for loading and unloading while reducing the danger of falls from docks, bays or exposed edges. Its counterbalanced design enables easy, one-handed operation and a unique dampening system keeps the gate from closing hard. Made from heavy-duty steel and featuring a powder coat yellow finish, the Loading Dock Safety Gate withstands repetitive use. Once assembled, it simply bolts to the existing floor or concrete and is adjustable to fit standard 8-foot or 10-foot loading docks.
"A safe worker is a more productive worker," says Dean Thorsen, PS Safety Access national sales manager, "and our PS Safety Access products provide barriers against the everyday workplace dangers that can injure personnel and hinder productivity."
To learn more about the SafeMezz360 or the Loading Dock Safety Gate, stop by PS DOORS' booth #S671 at the ProMat 2017 show or visit www.pssafetyaccess.com