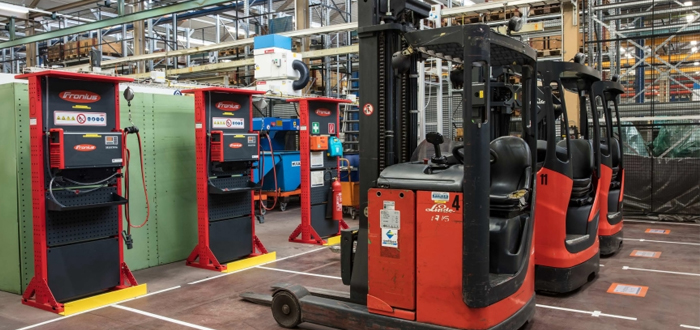 Reishauer AG Modernises Its Battery Charging Technology With Fronius.
High quality and innovative technology are a big part of the formula for success at the Swiss company Reishauer AG. This is carried across into its approach to keeping its production lines fully stocked. Together with Fronius, the grinding technology specialist has installed a modern charging station for its fleet of electric forklift trucks that is both user-friendly and safe, while also looking the part. The Austrian technology leader not only supplied the energy-efficient and battery-friendly Selectiva battery charging systems, it also undertook the planning and design of the entire infrastructure.
"The precision of a Swiss watch". Not just a catchphrase, but a way of life at Reishauer AG, which is based in Wallisellen in the canton of Zürich. The family business, founded in 1788, is one of the leading providers of gear grinding machines. With the invention of the generation grinding machine back in 1945, Reishauer developed a unique process for the ultra-precise and speedy machining of the tooth traces of cogs following hardening. It is mostly used in the automotive sector, where it can significantly improve the precision of gears, as well as energy efficiency, fuel consumption, engine smoothness and noise emissions over the entire vehicle. Reishauer AG customers include big-name manufacturers and suppliers from around the world.
Reishauer manufactures all its machines at its only production site in Wallisellen. For a long time now though, the company has seen itself as more than just a supplier of machines, but as a partner installing tailor-made complete solutions, together with its users. "Our portfolio now consists of highly specialised grinding and dressing tools, test rigs, clamping systems and automation solutions," explains head of logistics Oliver Ritter during a tour of the factory floor. "This means that our customers are able to get everything they need for their entire grinding process chain from a single source." This formula for success means that Reishauer has been able to make a name for itself in the demanding automotive industry and record strong growth. At its Swiss headquarters alone, the company employs around 500 people, with a global workforce of more than 700. It has subsidiaries in Germany, France, China, Japan and the USA.
First impressions count
From its headquarters in Switzerland, Reishauer places an emphasis on high quality and innovative technology in order to secure its long-term position in the face of increasingly stiff international competition. Its bright, spacious, clean and tidy production and assembly halls always impress visitors. "We often have guests, customers or other interested parties come to visit," Ritter explains. "In these situations, it's obviously important to make a good impression." Even the material flow technology is modern: 12 electrically-powered forklift trucks from Linde are responsible for internal logistics. They transport raw materials, semi-finished parts, assemblies and complete machines across the site in a quick and quiet fashion – all while producing zero emissions.
Reishauer has installed a central battery charging station in one of its halls in order to ensure that its nine reach trucks, two counterbalance trucks and a tractor are all supplied with energy. On top of this, the station also looks sleek and modern: employees have access to three battery charging systems that are set out in a neat row and mounted on special free-standing modules. The parking spaces for forklift trucks are clearly marked and easily accessible. There are no unsightly charging leads lying around, meaning that first aid kits, fire extinguishers and other safety equipment are more prominent and close to hand. The Austrian battery charging technology specialists at Fronius Perfect Charging supplied and installed both the devices and the entire infrastructure.
Risks associated with outdated charging technology
"Before, we were using chargers with 50 Hz transformer technology, which were dispersed across the company," Ritter recalls. "But we weren't happy with them. The charging process was outdated and, during internal audits, we detected significant shortfall in terms of fire safety and the safety of our personnel." Professionally constructed charging rooms and stations is particularly important when it comes to lead batteries. Firstly because they contain corrosive acids, but also because there is a risk of explosion during charging caused by oxyhydrogen. This is why, in 2015, Reishauer decided to modernise and restructure its charging technology – and they quickly got the Fronius experts on board.
"For our customers, energy efficiency and battery service lives are usually the main selling points when it comes to investing in charging technology," explains Reto Baumgartner, a battery charging systems sales advisor at Fronius Switzerland. "In this case, it was all about making things safe and user-friendly, because the fleet of forklift trucks is under varying levels of demand." Fronius designed a central charging station with five individual charging points for Reishauer – and of course while taking account of all the required standards and regulations. "Safety clearances, ventilation, signage, safety measures – there's a lot to think about in the planning stages. Things that forklift truck operators often don't know a lot about," Baumgartner observes.
Safer construction with Fronius charging modules
Battery charging systems are held securely in place with Fronius charging modules, cannot be damaged by the forklift trucks and are easy to use. The charging leads automatically retract when they are not in use, thus protecting them against damage. The modules also provide enough space for all the necessary safety equipment should an accident occur. "The station not only satisfies all our requirements, it also absolutely looks the part," says Oliver Ritter. "It really works with our overall company aesthetic. We couldn't say that about our previous charging technology – that wasn't exactly easy on the eye."
The new Fronius devices are the current generation of the successful Selectiva product range. The Ri charging process is the most advanced available on the market. "It enables every charging process to follow an individual characteristic that, amongst other things, assesses the age, capacity and state of charge of the connected battery," explains Baumgartner. It is especially energy efficient and preserves the expensive batteries. "The automatic voltage detection facility featured in the devices provides a degree of flexibility that allows a variety of batteries to be charged." The forklift trucks at Reishauer use batteries of either a 24, 48 or 80 V rating. Despite this, employees can attach any vehicle to any battery charging system. "All you have to do is plug it in, it does the rest itself. It really couldn't be any easier," explains an enthusiastic Ritter.
Delay charging to get the most from cheap electricity tariffs
The devices also offer other useful features – a delayed start to charging, for example. It doesn't matter when an employee connects a battery, the charging process always begins at a pre-defined time. "This means that we can always make use of cheaper electricity tariffs and reduce costs," says Ritter, explaining the benefits. Since fleet usage at Reishauer is not particularly high, it is enough to charge the forklift trucks overnight and have them ready for use the following day. LED strips on the devices indicate at a glance if the attached battery is fully charged and has already cooled down. "That makes our work easier and helps us to avoid operating faults," the logistics manager explains.
Reishauer is also extremely pleased with the comprehensive service from Fronius. "From the first estimation to the detailed planning, the installation and commissioning, we were offered first-class support," summarises Ritter. "Even now, we can contact the Fronius experts any time we have a question. Device updates and new characteristics can be easily loaded via the USB port." The new charging station means that the grinding technology specialist has received a complete solution that is both user-friendly and safe, while also looking the part – "It's a real statement piece in our manufacturing department," grins Ritter. The logistics manger has also noticed another change: "Water consumption has really reduced for our batteries, we don't have to top them up as often." This is another benefit of the Ri charging process that makes a big difference to everyday operations. "Basically, if we had to do the whole thing again, we'd always choose Fronius," says Oliver Ritter with conviction. "They just offer the full package."