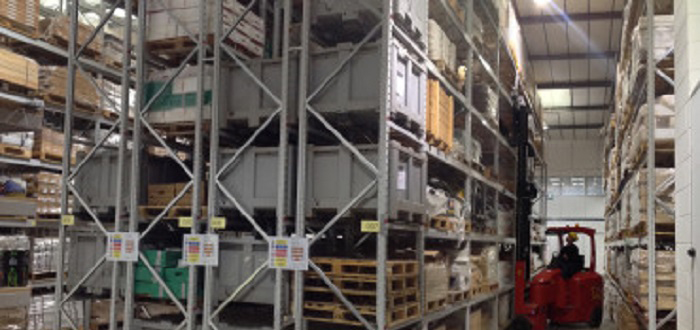 Revamped warehouse process is the right recipe for snack food giant.
KP Snacks is one of the longest established and most successful snack producers in the UK. The company, which has been part of the Intersnack Group since January 2013, manufactures and distributors such iconic snack brands as McCoy's, Phileas Fogg, Hula Hoops, Pom-Bear and KP Nuts and employs some 8,000 staff at 30 locations throughout the UK and Europe.
Due to the consistently high demand for its products, the company recently undertook a major upgrade of the intralogistics processes at its Ashby-de-la-Zouche warehouse that has resulted in a significant increase in the store's pallet volume.
Quite simply, the warehouse, which is located on the same site as a major KP production facility, no longer offered the capacity required to handle the growing flow of stock that left the adjacent factory.
A number of options – including a move to a bigger unit – were considered before KP settled on a solution designed and delivered by Flexi Warehouse Systems, the Systems Division of Narrow Aisle Ltd.
The original layout of the store featured standard pallet racking, which was worked by a combination of traditional counterbalanced forklifts and reach trucks. However, this model was no longer space efficient and didn't allow KP to achieve the throughput speeds it was looking for.
Flexi recommended narrowing the aisles of the warehouse's storage cube and replacing the pallet racking with an integrated two-deep storage system served by a fleet of Flexi StorMAX truck units. Controlled by a specially developed warehouse management system to optimise First in Last out (FILO) and maximise pallet storage efficiency.
The Flexi StorMAX solution allows 50 per cent more pallet locations to be achieved when designing a storage system in a warehouse with the same dimensions as a system served by conventional reach trucks. At the same time the number of pallet movements per truck increased by 15%, a real boost in efficiency.
In simple terms, the Flexi StorMAX technology and two-deep system supplied at KP's Ashby-de-la-Zouche site, allows KP to handle two pallets from the same side of each very narrow aisle – which effectively doubles the capacity of each run of racking within the store.
Controlled by KP's warehouse management system, pallets are put-away and retrieved by the StorMAX's pallet forks that have been designed to be able to place pallets twice as deep within the racking as a traditional reach truck's forks.
In addition to supplying the 'hardware' incorporated in the revamped store, Flexi advised on how to adapt KP's WMS software to optimise every pallet of product entering the warehouse so it can be tracked, located and picked in the most efficient 'FILO" sequence.
The WMS organises the sequence in which the pallets are put away. Depending on the incoming pallets' sell-by date, they will be placed in front of products that have longer sell-by dates. This eliminates moving stock to access the earlier dated stock.
To further enhance efficiency when picking at height, the Flexi StorMAX trucks that operate at KP Snacks' warehouse are fitted with a hi-definition operator CCTV camera system. These modern screens provide ultra-clear images to allow the operators to confidently move pallets at throughputs of 35 per hour per truck.
A fleet of five Flexi StorMAX trucks is all that is required to maintain KP's highly effective put-away and picking operation and, to ensure 'round-the-clock' truck 'up time,' Flexi supplied a bespoke battery management system which reduces charger energy consumption by over 40% and provides data to the operator identifying the next fully charged battery available for cassette change. Battery changing is carried out by the operator with a dedicated transfer truck in only 3 minutes.
The existing warehouse was converted 'as is' the original floor and other costly infrastructure was used, a new modern LED low-energy lighting system was installed at very low cost, as the StorMAX system has half the number of operating aisles as a conventional reach truck warehouse.
John Maguire, commercial director of Narrow Aisle Ltd, commented: "The Flexi StorMAX system has allowed KP Snacks to maximise the capacity and efficiency of its existing adjacent to production storage facility. Flexi Warehouse Systems was able to work with KP Snacks to re-design and re-configure its existing intralogistics infrastructure and, by using new technology and handling techniques, we have created a more cost effective operation with a very attractive pay-back period, and without the huge additional double handling and transport costs involved in an off-site distribution centre."
"Flexi Warehouse Systems' ability to offer a complete service from design through to supply and installation of all storage equipment allows food manufacturers with warehouse operations, such as KP Snacks, to modernise their existing facilities and make real operation costs saving in double quick time."