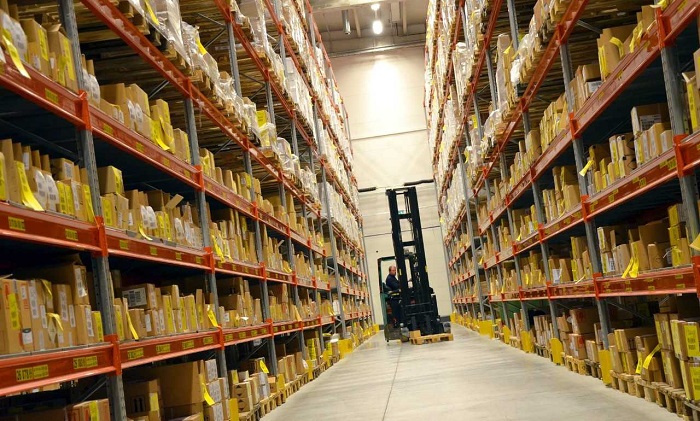 Safety precautions to consider when operating warehouse lifting equipment
In this article, Dan Casey, from lifting equipment specialist Penny Hydraulics, talks about the importance of safe operating practices and shares the essential safety regulations all warehouse employees should know.
Lifting equipment — such as forklifts, winches, light cranes and hydraulic lifts — is an essential part of everyday warehouse operations. It allows for much easier transportation of stock, saving warehouse operatives time and a great deal of difficult physical labour. When used correctly, this equipment also reduces the risk of injury that manual heavy-lifting can involve. But, while effective, all of this powerful machinery can be hazardous when the proper protocols are not followed.
So, to help you limit the chances of causing or being involved in a mechanical accident, I've put together this guide to safety precautions around lifting equipment. I'll discuss what you need to do to make sure your safety protocols meet government regulations, and how to reduce the risk of an accident on the job.
What are LOLER regulations, and who do they apply to? The Lifting Operations and Lifting Equipment Regulations (1998) outline the duties of businesses and personnel who operate machinery to help with lifting tasks. They dictate that all equipment must be fit for purpose, and properly inspected for wear, tear or faults, and they also outline what employers must do to prevent accidents and injuries. While the risk of an accident can never be completely eradicated, as long as you make sure that your lifting operations meet these regulations, the risk of an accident or injury will be as low as possible.
The regulations apply to any employer or self-employed person who oversees lifting equipment in a workplace, but they are not applicable to any equipment that is primarily for public use (e.g. a lift or escalator in a shop). While that means that your employees don't have a legal responsibility in the
same way that an employer does, they still need to be aware of the rules and understand how to take care of themselves and others.
How is 'lifting equipment' defined?
Lifting equipment is defined as any piece of electrical or mechanical equipment which is used to lift goods. That includes any accessories or attachments needed to operate a particular machine, including hooks, stabilisers and anything that's used to fix or support it during work.
According to LOLER, a lifting operation is any activity which involves lifting or lowering a load — for instance onto a trolley or lorry, or to a higher storage area. So, if your warehouse uses any sort of mechanical or electrical equipment, like forklifts or hydraulic lifts, to assist in these sorts of tasks, you will need to ensure the regulations are followed.
What will I need to do to make sure lifting operations are safe?
Operating lifting equipment can be a hazardous job, both for operators, and those working nearby during lifting tasks. So, to comply with LOLER and ensure lifting operations are as safe as possible, work must be:
* Well-planned and organised
* Appropriately supervised
* Carried out by competent personnel, with adequate training
* Carried out in a safe manner which minimises risk
It's not just the operators of machinery who will need to follow these precautions, either. Those who are on site during lifting operations will need to behave in a safe manner, too, even if they aren't actively operating the equipment. For instance, staff who are working around lifting equipment will need to ensure they're wearing the right personal protective equipment, and take common sense precautions, like avoiding walking under any suspended loads.
What should I do to make sure my lifting equipment is suitable?
To comply with LOLER, all lifting equipment and machinery needs to undergo a thorough examination and have an up-to-date Certificate of Examination to prove it. Users and operators should also carry out an inspection before undertaking any tasks, to check that it's still in full working order. You can find out more about thorough examinations, including how often your equipment needs to be checked, on the HSE website.
The manufacturers of lifting equipment will provide comprehensive details of how employers can check, maintain and service their machinery, and will often provide advice on what operators should look out for during pre-use checks. So, if you're in doubt about how to best to ensure you're using your equipment safely, then it's a good idea to contact the manufacturer and seek their advice.
Ensure all staff have the right training
Finally, as a duty-holder, you'll need to come up with a training programme that ensures that your employees are aware of their responsibilities, and how to keep themselves safe during lifting work. Your staff play a vital role in ensuring that all lifting operations are carried out safely, particularly if they will be controlling equipment or supervising the lifting process. So, you'll need to ensure they know what to do keep everyone safe, and how to use their equipment in a way that minimises the risk of an accident.
It's not enough to provide training at the start of employment, either: to be properly effective, training needs to be updated and undertaken regularly, so your staff are up to speed with any new
information or rules. You should also make sure staff receive new training each time they work with a new piece of equipment, even if it's similar to machinery they've operated in the past.
While complying with regulations like LOLER can seem like a lot of work, the majority of it is just common sense and thorough preparation and planning. So, if you think your warehouse safety protocols need a fresh review, bear the advice in this guide in mind: it will help keep your operatives safe, and your workplace running efficiently.