Organisations running an SAP WMS have some big decisions on the horizon. Prior to COVID challenges were around how a move to S/4HANA could be facilitated, more recently organisations are trying to understand how they can extend the life of their current WMS and deliver better ROI.
When considering SAP digital supply chain, the combination of legacy and new software platforms has led to four options for consideration. Understanding the difference between the different SAP WMS – can be a real challenge, so here is a quick outline of what's currently available:
Gain a platform suitability rating for your business today, access your FREE 8 page SAP Warehouse Management (WMS) personalised report. 
SAP WM is the original product offering from SAP. It has basic warehouse management functions that can be extended with TRM (Task Resource management), so its shelf life has been extended, but it will not be developed further and will eventually not be supported. If you are on the lookout for a stopgap solution, WM could be your best choice. If you are replacing SAP WM and want to know what your options are for transition and future deployment, download the latest guide. 
SAP Stockroom Management is a cut down version of the WM tool and offers basic functionality enabling users to manage stock rooms and smaller, simple warehouses. Although it will continue to be supported, it is no longer being developed. Stock room management would be a good choice if you required warehouse management capabilities for a small manufacturing parts store for example.
SAP Extended Warehouse Management (EWM) is a comprehensive warehouse solution using shared resources across your supply chain landscape. SAP EWM can be used in one of two modes – Basic or Advanced.
To get some detailed guidance on which one would suit you best read SAP Extended Warehouse Management 'Basic' vs 'Advanced' with S/4HANA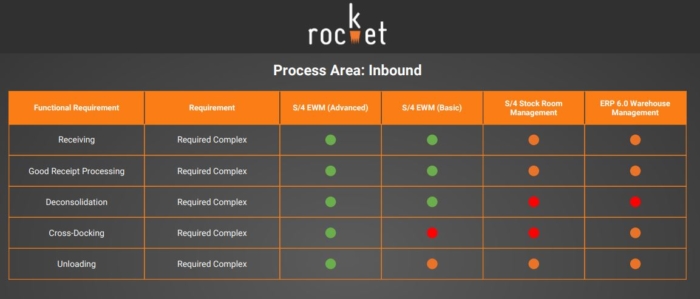 Basic EWM has basic extended warehouse management and is aimed at users with smaller, more manually operated processes. With a reduced license cost in comparison to other platforms, it is part of SAP's strategic offering and can be extended to include all of the additional functions as and when required. However, if the trigger functions of full EWM are exploited, the full licence cost is applicable. Basic EWM would work well if you operate a small wholesale warehouse or a raw materials warehouse.
SAP Extended Warehouse Management (EWM) advanced option supports complex picking and put-away strategies, value-added services, kitting and automation integration (to name but a few). As it is part of the supply chain solution from SAP, it fully integrates with other solutions such as Transportation Management, Production Planning and Execution, Global Track and Trace and Quality Management. Providing flexible warehouse processes which can be automated, it drives efficient material flow through your warehouse ensuring the right task is presented to the right resource at the right time. Stock Management and reporting tools enable better decision making and quicker reaction to situations.
Selecting the right SAP WMS with total control and transparency
As an SAP digital supply chain consulting, implementation and support partner focused on increasing SAP project success, Rocket have helped 100's of businesses select the best-fit platforms. The Rocket SAP Warehouse Management System (WMS) selection tool provides a method to rapidly align the WMS platform capability to your specific needs. Take the complexity of the solutions available in under 10 minutes, providing you with a detailed analysis, so you pick the best SAP solution for you.
Access your FREE 8 page personalised SAP WMS match report today