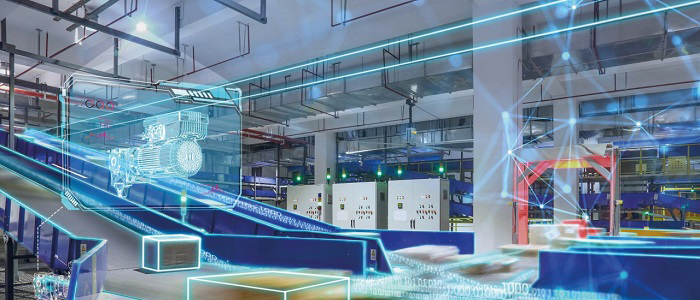 Siemens highlight the potential of digitalising the drive train at IMHX
At IMHX 2019 Siemens will be highlighting examples from its extensive range of integrated drive solutions that are designed to improve the operational efficiency of intralogistics operations, and crucially, reduce downtime that can be crippling – particularly at peak times.
Visitors can learn about digitalising the drive train – from controlling the machine through to driving the machine – and how this provides readily consumable data on the health of the asset that can be used for predictive maintenance. It is also possible to connect to Siemens' open IoT operating system, MindSphere, using applications for performance insights and remote monitoring of those assets.
"As soon as Siemens motors and drive components are in a machine and connected to the Programmable Logic Controller (PLC), the data becomes available – either on the human-machine interface (HMI) or via the web. Engineers can then begin to monitor the condition of the machine and identify the hallmarks of potential downtime," says Siemens' Head of Intralogistics, Scott Read
Visitors to the company's stand can also find out how real time locating systems, such as Siemens' SIMATIC RTLS, are playing an increasingly essential role in the digital infrastructure of modern industrial facilities.
Intelligent systems such as mobile robots, self-navigating transport systems and automated handling technology need to know the precise location of the loads they are scheduled to pick or carry and the SIMATIC RTLS is able to locate objects with a level of accuracy that can be measured in centimetres and make the positioning details available to higher-level systems in real time.
Companies across the world are using SIMATIC RTLS to navigate material flows, control mobile robots, monitor component use and fully document final product assembly.
Other software to be demonstrated at IMHX will include Simove – a scalable AGV system platform; and MindSphere – a cloud-based operating system that allows management to monitor assets remotely using data from the drive train.
Siemens say that if companies have a connected suite of assets across applications including conveyors, AGVs, automated storage and retrieval and RFID systems, there is no limit to how innovative it is possible to be with the data generated to drive operational efficiency.
Siemens will also be showing the VarioSort EXB, an electrical cross-belt sorter platform that is sturdy, straightforward and highly efficient. The result of over two decades of in-depth application and engineering experience, VarioSort EXB combines throughput speeds of up to 13,000 pieces per hour with the ability to sort very light items – making it highly suitable for e-commerce operations.
"We are delighted that Siemens have chosen to use IMHX to launch their solutions for the logistics sector" says Rob Fisher, Event Director IMHX. "The advancements in robotics and automation within our sector has been game changing for logistics operations and the Siemens stands will be one of many points of destination that visitors should make a beeline to."
In addition to their stand space, Scott Read will be hosting a seminar session within the Centre Stage Theatre on Friday and in the AMHSA Pavilion on Tuesday and Wednesday. Visitors can register for a free entry pass at www.imhx.net