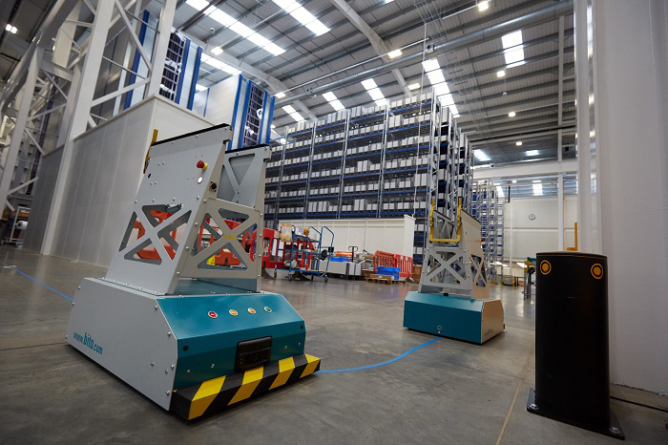 Siemens improves service with new future proof warehouse.
Siemens Industrial Turbomachinery invested £48 million in the Teal Park site and to consolidate its service and storage operations into a new Global Service Operation Centre to promote health & safety, deliver reduced cycle times and costs while expanding service capabilities. The future-proof centre was delivered on time and budget.
Siemens Industrial Turbomachinery designs, manufactures and services small industrial gas turbines, with an installed fleet of over 3,500 units across 90 countries. 1500 of these remain operational with key customers in the oil and gas industry, industrial customers, hospitals and paper mills.
To gain competitive edge in delivering an industry-leading service to customers, which is essential for business sustainability, Siemens invested £13 million in the total project cost of building a new, Global Service Operation Centre (GSOC) next to its overhaul facility at its Teal Park site in Lincoln, to consolidate its service and logistical operations. The whole site represents an investment of £48million.
Key objectives for the new joint warehousing, engine management, tooling and spare parts facility were to: promote health and safety, facilitate growth, increase cycle speed, expand capabilities and reduce costs within a future-proof operation.
The consolidation included relocating Siemens' small gas turbine parts, engine and tooling storage, previously located at a site nearby, together with bringing in off-site storage and the operations of the Siemens' aeroderivative gas turbines group company.
This combined operational footprint of 12,000 square metres would have to fit into the new 7000 square metre GSOC, while also maximising operational efficiency.
Siemens met this challenge through closely collaborating with MHE suppliers to deliver an innovative intralogistics solution to help store and pick the company's 15,000 SKUs (Stock Keeping Units) – anything from nuts & bolts up to 6-tonne engines.
Bespoke engine racking reduces footprint
The previous facility stored these heavy engines on the warehouse floor, occupying a large footprint with a considerable amount of wasted space above, while also being inefficient for engineers to locate a specific engine. To fit into the 7000 square metre footprint, this 'air-space' had to be utilised, while more efficient inventory management was needed to give engines their own 'bin location'.
The answer was an impressive three-level high engine rack providing 72 locations, served by a wire-guided sideloader. The bespoke design, by BITO Storage Systems using standard beams and uprights, enables engines weighing up to 6-tonnes, and stored on 1-tonne pallets (specially designed by local fabricator Rilmac), to be located on the first beam level as well as ground level. The top-level locations can hold up to 4-tonnes.
Siemens has never racked engines before and this was also the heaviest pallet that BITO has ever stored. A prototype programme that involved a BITO structural engineer in Germany, produced components that were produced and tested at Siemen's existing site with the heaviest engine – a 6-tonne SGT gas turbine – on a 1 tonne pallet.
The GSOC also includes 700 locations
of standard pallet racking for the bulk store and 3650 locations of high-rise VNA racking.
Ten 11 metre high Kardex Remstar XP500 shuttles provide space efficient small parts storage and retrieval.
Safe and efficient internal transport 
With health and safety a design priority, Siemens collaborated closely with BITO and Kardex on an innovative driverless internal transport system to separate vehicle and human work areas, while providing swift and safe transfer of items between Goods In, the Kardex Shuttles and the packaging stations.
Six BITO LEO Locative AGVs continuously circulate, following tape laid on the floor. Floor mounted 
barcodes give each LEO instructions and guide it reliably to a hand-over station where it deposits its tote and collects any awaiting pick-up.
Foldable containers are used for the Internal transport totes. The scheme incorporates empty tote storage above the LEO stations using Carton Live Storage (CLS) as a buffer. When an item is sent across from Goods In for putaway, the component is removed from the tote and put in the appropriate bin of a Kardex unit. The empty collapsible totes are then folded down and fed into the back of a CLS lane to flow to the front, ensuring a tote is available when components are required for the outbound pick up by a LEO.
Small parts picking
The ten Kardex Shuttles offer a total of up to 76,800 locations and optimal small part location flexibility. Each shelf holds ten 600 x 400 mm containers, which can each be segregated into required number and size of bin locations using plastic dividers. This can create a maximum of 80 bin locations per shelf and Siemens has the flexibility to create different sized locations.
Orders picked into a totes are placed on a station to await collection by a LEO to take them to the packaging station, allowing the operatives to get on with their next task. This 'buffer' also gives Siemens clear visibility of work-in-progress in each of the areas.
SAP Warehouse Management Software works seamlessly with the solution to keep inventory updated in real time via barcodes.
On time and on budget
Construction of the GSOC commenced in May 2017, with first fix taking place in October 2017 and the warehouse fit-out from end of November. Before Christmas, all of BITO's racking and the Kardex Shuttles were installed. Hand over of new facility was 21 March, and it went live on 2 April.
Through excellent project management and communications with the suppliers involved, the GSOC was successfully completed within budget and on time to deliver an industry leading service to Siemens' customers.
Customers were briefed on the benefits of the new facility and a seamless transition saw the full 15k SKU range moved into the new facility within a 6-week period, while maintaining customer service levels throughout.
Key results
The GSOC separates human and busy forklift truck areas by using LEOs to transport goods. Stopping devices on forklifts and LEOs prevent collisions. LEOs also minimise manual handling.

In terms of financial benefits, the £400,000 racking investment represents a huge saving on the additional £3 million required for the original plan to build a 10,000 square metre facility on the constrained site. The racking saves 1500 square metres of footprint, while the Kardex Shuttles save a total of 1200 square metres. The engine rack itself has resulted in a two-thirds reduction of floor space occupied by the engines compared to the previous facility.
The low-cost LEO system gives Return on Investment (ROI) within a year, compared to the typical 5-year period for conventional AGVs. Unlike other AGVs, LEO installation is simple and quick with the units following 
tape laid on the floor, giving 
complete flexibility to reconfigure and maximise efficiency by simply pulling up the tape and relaying new routes. Siemens can scale up if required by buying or hiring extra LEOs straight off the shelf.
Floor staff productivity is maximised by LEOs taking over simple transporting duties, and reducing travel time by 30%. To match this increased productivity would require two extra full-time operatives on start up and a further three as business ramps up. Pick cycles involving the Kardex Shuttles are twice the speed achieved in the former facility.
Siemens also receives a future proof warehouse. Constructed using standard components, the engine rack can be reconfigured whenever required and the GSOC was designed to accommodate four further Kardex Shuttles if required.
Ultimately
the new GSOC facilitates growth without needing to increase headcount. It ensures stock availability and the same- or next day response to help customers minimise downtime, which for a turbine can cost in excess of £100,000 per hour. Normal service hours of 07.30 to 16.00 are extended to cover peak times.
Any demands on the warehouse will be picked and packed the same day. If completed by 16.00, they will be shipped that day.
Clive Cox, Project Manager for Siemens Industrial Turbomachinery, offers his opinion of BITO Storage Systems' significant contribution to the project:  "When it came to installation BITO's on-site team were very efficient and complimented by the main construction group on their work ethic and housekeeping so from our point of view, it all worked very well. We are extremely happy with the quality of BITO products. The company is supportive, very responsive and worked closely with us to give the service we needed throughout the complex project."