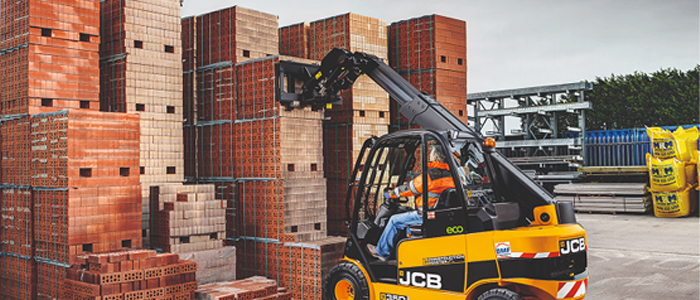 Switch to Teletruk technology helps MKM make the most of its outside space
With 63 sites from Aberdeen to Devon and new facilities opening all the time, MKM Building Supplies is one of the UK's largest and fastest growing chains of builders' merchants.
The company serves both trade and DIY customers and a typical branch stocks over 4,500 product lines – from sand and cement, building blocks and timber to high-end luxury kitchens and bathrooms.
MKM's outlet in Anlaby, East Yorkshire, is located on a one acre site, but with a large warehouse unit occupying half of it, outside storage space is at a premium.
Strong sales and the resultant need to hold more inventory added to the pressure on the limited outside storage area.
Glenn Paddison, director of MKM's Anlaby branch, says: "We are growing rapidly and the cramped outdoor conditions at Anlaby not only restricted storage capacity but also made unloading incoming delivery vehicles and loading customers' vans, cars and lorries difficult."
Following a review of operations at the site, JCB Teletruk technology was introduced to free-up valuable outside space and the yard area has now been completely reconfigured.
With its unique telescopic reach, JCB's Teletruk has been designed to enable users to leverage their outside storage space.
Paul Murray, JCB's Teletruk general manager, says: "The Teletruk has the ability to access curtainsided trailers from only one side. This functionality means the amount of floorspace required to load and unload pallets to and from incoming or outgoing vehicles can be slashed by 30% – which, typically, will free up some 32 square metres of yard space per vehicle."
Now, trailers arriving at MKM Anlaby are parked tight to the site's perimeter boundary – creating space for nearly £100,000 of additional stock to be stored within a new outdoor racked storage system and additional block stacking areas.
In addition to the space gains delivered, parking trailers against a boundary means that potentially hazardous 'blind' forklift travel – where a lift truck operator emerges from the side of a parked trailer into what is often a busy area – has been eliminated at the site.
A fully laden trailer can be 'turned around' in under 30 minutes using the Teletruk and this speedy throughput allied to the introduction of a new one-way traffic system has enabled MKM to significantly enhance the 'customer experience' at the Anlaby branch.
Glenn Paddison says: "We had previously used standard counterbalanced forklift trucks and they required all of the available yard space to manoeuvre safely around a delivery vehicle. The introduction of the Teletruk has allowed us to reconfigure our outside space in a far safer and more space efficient way. Quite simply, we wouldn't have been able to achieve what we have at Anlaby without the Teletruk."