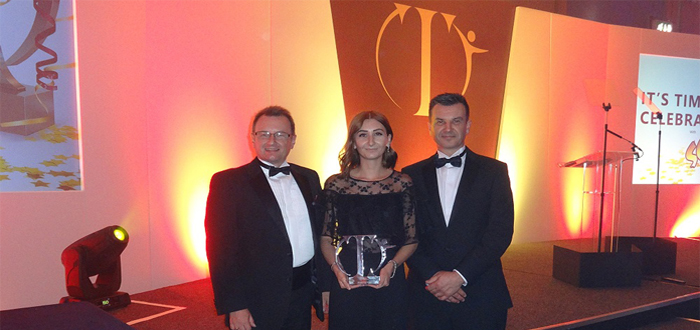 System Group apprentice wins top price at industry awards.
A System Group apprentice working for CEMEX UK is on the road to success after scooping a top prize at the Talent in Logistics Awards, reflecting her commitment to training as she pursues a career as a driver at one of the UK's leading suppliers of building materials.
Twenty-two-year-old Christina Wilcox, who's the first female apprentice and driver at CEMEX UK's Rugby cement plant in the Midlands, won the coveted Apprentice of the Year following her Level 3 Driving Goods Vehicles Apprenticeship, delivered by System Group.
She secured her success after demonstrating her proficiency driving and delivering 44 tonne bulk cement tankers as part of a 90-strong driver workforce.
The Talent in Logistics Awards recognises the skills and achievements of the people that keep the logistics sector, and the country, running, with the winners judged by a panel of industry leading experts.
This includes representatives from the CILT (Chartered Institute of Logistics and Transport), RHA (Road Haulage Association), FLTA (Fork Lift Truck Association), Women in Logistics and charity Transaid.
Christina's achievement capped a night of success for System Group, which was also nominated in the Training Programme of the Year and Grand Finals of RTITB's Forklift Operator of the Year categories.
She said on receiving her award: "I was shocked but delighted to win the award both for myself and other young aspiring drivers.
"It wouldn't have been possible without the excellent apprenticeship scheme offered by CEMEX through System Group, which has been run for the last three years."
Christina hopes her success will inspire other young people to see a driving apprenticeship as a great way to learn a skilled trade while getting paid.
Darren Cunningham, chief executive at System Group, which trains drivers for local and national logistics operators, said: "Christina's hard work and dedication is truly commendable, so many congratulations to her.
"She's an inspiration and further endorses our focus on nurturing young talent and equipping them with them with the skills and confidence to meet the UK's pressing need for trained drivers."
Billy Gomez, Christina's trainer, added: "I'm pleased for the team surrounding her, who have supported her all the way to this point, and who I know will be overjoyed at her well-deserved success."
Christina is now looking forward to seeing more women drivers coming into the sector as she builds on her achievement through further training and professional development.
CEMEX UK is a leading provider of aggregates, cement, ready-mixed concrete, concrete blocks and rail sleepers. Barrie Flitton, logistics operations manager who accompanied Christina to the awards, said:
"It is a great achievement for Christina and the Rugby logistics team. It's also for the work and commitment by CEMEX in developing young people and talent in the company."
System Group works with logistics and utility companies, military and government departments, local authorities, national corporations and small businesses as well as individuals and the self-employed. More at www.system-group.com