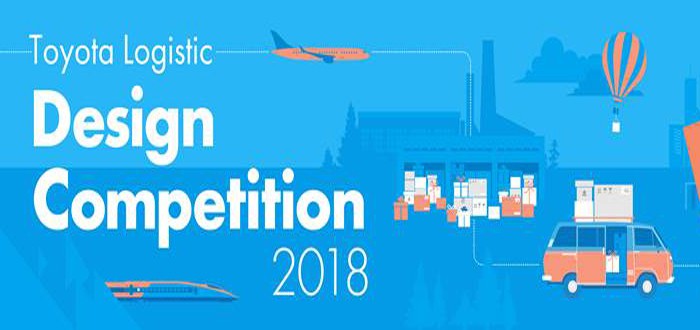 The new edition of the Toyota Logistic Design Competition challenges students to revolutionise e-commerce logistics.
"Package Delivery. Join the revolution" is the theme of this year's Toyota Logistic Design Competition (TLDC 2018). Toyota Material Handling Europe is now looking for forward-thinking European designers to take on future logistics for parcel delivery.
This year's design competition plays into the trend of consumers not only making decisions online, but also buying online more and more. As e-commerce is becoming the norm, a fast delivery time has become an absolute priority, but is not always a reality due to underlying factors such as traffic.
Toyota is now challenging design students to abandon the idea of the traditional supply chain and come up with a fast, sustainable and revolutionary solution that facilitates direct delivery and optimises the last mile to customers. While thinking towards the future and taking industry trends into account, participants are encouraged to keep Toyota's heritage and innovation in mind as inspiration.
"When we launched the Toyota Logistic Design Competition (TLDC) four years ago, we couldn't have anticipated the interest it would spark among European design students and graduates. Currently three participants from the previous editions are working at the Design Center: opening a dialogue with young designers is our way of continually staying open to a world of new ideas," says Magnus Oliveira Andersson, Head of Design at Toyota Material Handling Europe.
The competition is open as of now and will close for submissions on 22 October 2017. All European design students and recent (2017) design graduates are invited to participate, with the chance to win a cash prize (with €5,000 as the first prize and a First People's Award, among others) and have their winning designs displayed at the CeMAT 2018 fair in Hanover, Germany. Participants can find more information and enter the competition via the Toyota Logistic Design Competition page: https://toyota-forklifts.eu/why-toyota/news-and-editorials/toyota-logistic-design-competition-2018/
The Toyota Logistic Design Competition is part of Toyota's Logiconomi programme. Logiconomi is the word Toyota Material Handling uses to describe its way of thinking – aiming for 'lean' processes, eliminating waste, maximising efficiency and reducing cost.