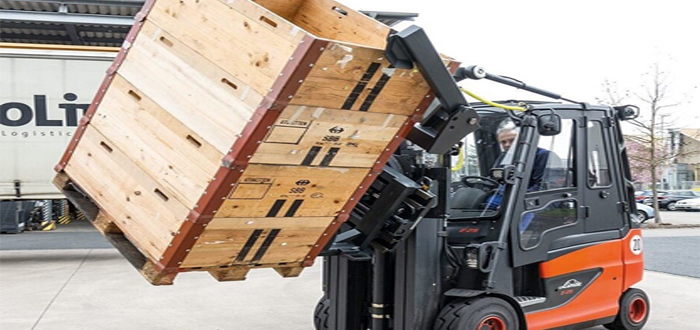 The New KAUP Discharging Device – The non-hydraulic solution for emptying Euro pallets and grate boxes .
The new KAUP Discharging Device T167S has been designed and manufactured by KAUP for emptying boxes on Euro pallets with a pallet frame and emptying grate boxes.
The Discharging Device has been developed for companies that may only require intermittent use of this type of attachment. It is a cost effective solution for infrequent or seasonal material handling tasks when a hydraulically operated attachment may not be viable.
The KAUP T167S attachment slips easily onto a rotating fork clamp with no hydraulic connection to the forklift truck necessary. The quick mounting mechanism ensures it is immediately ready for operation and can be quickly dismounted from the forklift truck when it is no longer required.
The attachment can be quickly adjusted to handle three different load heights. A simple manual adjustment of the load holding arms allows the attachment to accommodate pallet frame heights of 800mm, 1.200mm and 1.600mm. The Discharging Device has a central track for precise lifting of Euro pallets, allowing the pallet to be positioned exactly 90° to the attachment. This lightweight attachment ensures the residual capacity of the forklift truck remains unchanged for normal forklift truck operation, and provides an opening range of 1.200mm – 1.300mm.
This attachment is available for all industry sectors throughout the UK and Ireland from material handling specialists B&B Attachments. B&B pride itself on providing the most comprehensive range of attachments available from one provider. This includes solutions for ancillary systems, such as cameras and weighing systems from leading manufacturers, such as KAUP, Liftek and MoTec, whist also designing and manufacturing bespoke, specialist attachments in-house for customers with unique requirements.