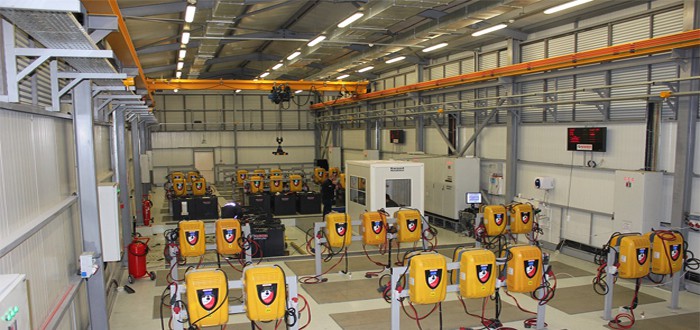 Total battery solutions for Turkish ground operations.
Turkish Ground Services (TGS) – the joint venture between Turkish Airlines and Havas – has improved the performance, efficiency and reliability of the electric vehicles that support its operations at six major airports across Turkey by installing the latest battery systems from EnerSys®. The total solution devised and installed by EnerSys at each airport includes powerful batteries from its Hawker® Perfect Plus™ and Ironclad® battery ranges, advanced battery management systems and state-of-the-art charge-and-change facilities.
Established in 2010 the TGS joint venture serves over 100 airlines visiting eight airports throughout the country. Its operations include passenger, apron and ramp services as well and ground and cargo handling. These are supported by a fleet of electric vehicles including luggage tugs and push-back tractors. TGS inherited facilities for these vehicles that had evolved piecemeal over many years. There was little or no consistency across the various parts of the operation or at individual sites, as illustrated by the situation at Ataturk Airport. Here the battery charging and changing areas were unmanaged and located outdoors where they were exposed to changeable weather conditions with little security.
The batteries themselves were in a poor state. They were poorly maintained, the automatic filling systems were not working properly and there was no reliable source of distilled water, which made any form of topping difficult. Poor management meant individual units lost their capacity very quickly and were failing in little more than a year. Overall the operation of the vehicles was inconsistent, inefficient and prone to disruption.
Seeking an improvement TGS turned to EnerSys for advice and support. Using its expertise and market knowledge gained from similar applications around the world, EnerSys worked closely with TGS to identify the existing issues and future business requirement. EnerSys proposed solution based around a complete set of new batteries and a purpose-built facility dedicated to battery fleet maintenance and management. The company worked with TGS to finalise a specification and project-manage the implementation.
EnerSys supplied a complete set of new batteries, chargers and related equipment. This included 100 of its advanced Hawker® Perfect Plus™ batteries (80V PzS620Ah) for the luggage tugs. These batteries are ideal for arduous and intensive applications because they offer a high level of power with longer running times and improved reliability compared with conventional batteries. Advanced components in the positive plates promote higher efficiency discharge. The size of the positive and negative plates is optimised for the cell box, which means the batteries have higher capacities than conventional designs with the same dimensions.
For the push-back tractors EnerSys supplied 90 of its powerful Ironclad® batteries (80V PzQ688Ah). Designed for heavy-duty applications these incorporate tubular positive electrodes with greater surface area than traditional flat-plate designs and a higher-than-average-density electrolyte. This helps deliver more power with higher discharge rates and up to 15 per cent longer running times than comparable models. They are particularly suited to intensive applications where operators such as TGS want to extend the period between recharges and minimise the number of battery changes.
The new charge-and-change building was designed by EnerSys® from the ground up for efficient operations. It incorporates 100 of the advanced Hawker® Life iQ™ high frequency programmable smart chargers. These offer improved efficiency and lower charging factor than conventional models which results in reduced energy consumption and lower carbon footprint. They automatically detect the battery's level of discharge and only supply the amount of power needed to restore full charge before shutting down. They have a real-time clock which allows charging operations to be scheduled during less expensive off-peak periods. Equalisation charge can be started when convenient and real dates programmed for each event.
EnerSys supplied 200 of its innovative Wi- iQ® wireless battery monitoring devices. Mounted on the DC cable of the battery these track metrics such as charge, temperature, voltage and electrolyte level in real time and upload data to the main battery management system. The advanced capabilities of the batteries, chargers and monitoring systems combine to ensure optimised charging profiles for the fastest cycle times, life-time reliability and lowest energy consumption.
Battery charging and changing operations are overseen by the Hawker® LifeNetwork iQ™ WiFi wireless Battery Fleet Management system. This analyses information from the batteries and chargers, including data from the Wi-iQ® devices, to maximise performance and efficiency. In this particular installation the system is configured to impose first-in-first-out battery rotation so the best available battery is always used. This helps to ensure that the utilisation of all batteries is balanced so that each one continues to deliver reliable performance over its projected working lifetime.
Inside the charging room two large LED screens mounted on the wall provide vehicle drivers with clear and concise information including details of the next available battery that they should use. The system is configured to sound an alarm if the wrong unit is selected to promote a high level of compliance with agreed procedures. Managers can monitor the operation from any computer with a web browser and access a wide range of analytical and reporting tools to assess and optimise fleet performance. They can also configure the system to issue alerts by email or SMS in the event of predetermined events so that they can respond proactively.
The remaining infrastructure inside the battery building has been designed for safe and efficient operations. Batteries are exchanged using a dual over-head crane which offers increased capacity over the previous facility. The cranes have 2.5 tonne maximum working load and there is built-in redundancy so that operations can continue during scheduled or unscheduled downtime of either unit.
The battery chargers are mounted on a frame at head height. This removes potential obstructions from the floor, minimises the risk of damage from collisions and affords easier access during routine operations or maintenance. Cables are short to prevent them trailing on the ground.
Ancillary services including electrical transformers, cabling and water pipes were incorporated into the design from the start and positioned to serve all of the charging stations. An on-site water treatment plant was installed to ensure a continuous supply of deionised water for the batteries for the automatic filling systems. Epoxy coating on the floor provides protection against accidental spills of water or battery acid. Automatic doors with infra-red sensors ensured the building remains secure against the elements while allowing easy access for vehicles. The design also included hydrogen detection and active ventilation systems to maintain excellent air quality at all times.
EnerSys has completed similar installations for TGS at five other airports in Turkey – Istanbul Sabiha Gökçen International Airport, Ankara, Antalya, Bodrum and Dalaman.