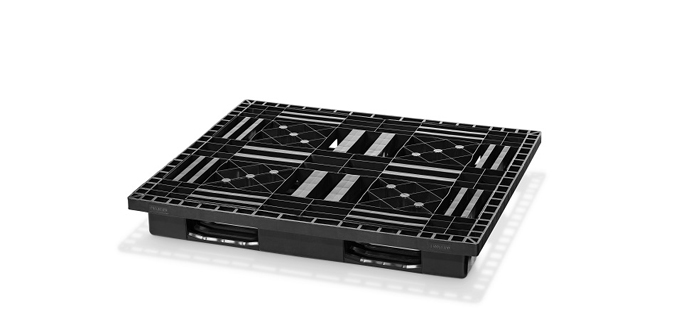 Transport solutions that give you wings.
At the LogiMAT intralogistics trade fair in Stuttgart from March 13-15, 2018, Cabka-IPS is presenting innovative plastic load carriers that facilitate a safe and efficient flow of materials in all industries. Highlighted at booth C21 in hall 6 is the new Eco P3 pallet, which is uniquely suited for transporting bags. To make this possible, Cabka-IPS has literally given it wings.
The most unique feature of the Eco P3 plastic pallet is its distinctive wing design: the deck protrudes over the skids and feet of the pallet. This gives it an extra large surface area to place bags and other goods. It allows users to effortlessly transport large quantities of goods even on smaller conveyor belts. In addition, the loaded pallets can be easily and firmly packaged with stretch film and lifted by forklift at different points of the pallet. This gives a significant boost to efficiency and process reliability in intralogistics.
The six skids of the pallet feature a wide design, which keeps it from collapsing onto the bags below when block-stacking. It also facilitates transport via roller conveyors and chain conveyors. Moreover, the Eco P3 offers all the advantages of a plastic pallet: at only 12 kilograms, it is very light compared to its wooden counterparts. It is free of splinters and sharp edges and thus protects the stacked bags against damage.
The Eco P3 is used in the chemical industry as an alternative to the standard CP 7 wood pallet. It is also suitable for use in any other industry. Due to its long service life, the plastic load carrier also impresses with an attractive price-performance ratio.
Cabka-IPS at LogiMAT 2018: Hall 6 | Booth C21