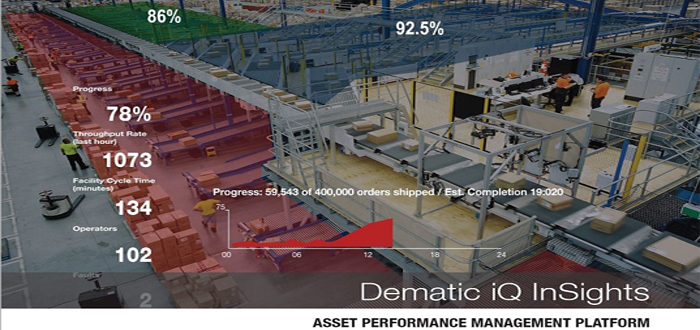 Warehouse Performance Management Software Maximises Operation Efficiency.
Dematic, a leading global supplier of integrated automated technology, software and services to optimise the supply chain introduces Dematic iQ InSights, a cloud-based Asset Performance Management (APM) system that unites order fulfillment and facility lifecycle management data for actionable intelligence that empowers users to make informed decisions that maximise overall warehouse logistics effectiveness.
Dematic iQ InSights holistically integrates facility-wide intelligence across warehouse and distribution systems, processes, and equipment so managers can make smart, data-driven decisions to fully utilise assets, increase operational performance, and add to the bottom line. The software allows users to: 
Maximise uptime

Accelerate incident/resolution cycle time 

Enhance cross-function intelligence 

Reduce total cost of ownership 
It combines sophisticated enterprise asset management (EAM) software with real-time operational data and the power of cross-functional analysis and advanced analytics. Using IIoT active intelligence, Dematic iQ InSights enables peak warehouse performance while reducing total cost of operations. 
Scott Wahl, Vice President of Dematic Software Center of Excellence, indicated that "Dematic iQ InSights is a flagship platform within the Dematic iQ software ecosystem, which is unmatched in its ability to bring together warehouse fulfillment, operations, maintenance, and analytics within and across facilities." The holistic, warehouse-wide approach enables true visibility across equipment, labour, and facility to help customers measure, evaluate and optimise operations.