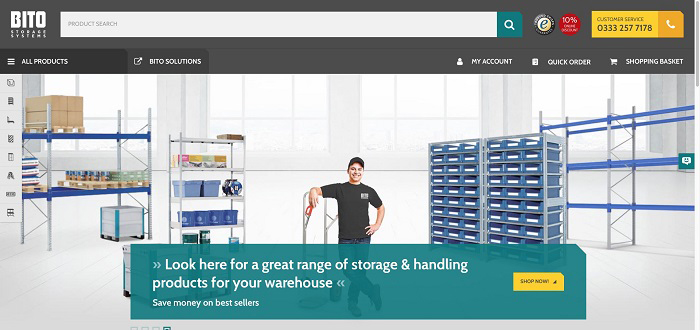 Welcome to the new online BITO Shop!
The launch of the new www.bito.com website opens the doors to the brand new online BITO Shop, which provides a quick and convenient way to buy from an online range of over 5000 products. This includes bins and containers, shelving, racking and accessories manufactured by BITO as well as non-BITO manufactured products such as trolleys, lockers and pallet trucks. All of the BITO Shop's stock is housed in the company's UK warehouse in Nuneaton, which holds sufficient stock to provide fast-track, 3-day delivery for most orders.
The user-friendly BITO Shop is the ideal destination for those seeking storage product items or equipment for smaller storage operations. Companies seeking larger solutions will find a 'project portal' full of intralogistics ideas, information and case studies on bito.com. Searches can be made according to industry sector or product type and a configurator will allow visitors to design their own shelving, racking or container layout. Advice is available from BITO's team of highly experienced experts – who can follow up with a site visit, while visitors are also welcome to view physical demonstrations of the solutions in BITO's Experience Centre in Nuneaton.
"We expect the new BITO Shop to be a highly successful sales channel, as we have seen other parts of BITO's global group report phenomenal business through their own shops," said Edward Hutchison, Managing Director of BITO Storage Systems. "The UK is a leader when it comes to e-commerce, so an online shop is a vital outlet for our products, particularly for SMEs seeking intralogistics solutions. What will make the BITO Shop stand out is the fact that we hold the stock locally in our Nuneaton warehouse. This means that we can support a fast track, 3-day delivery service to satisfy customer demand for shorter storage and order picking project lead times."
Visit www.bito.com to find out more.