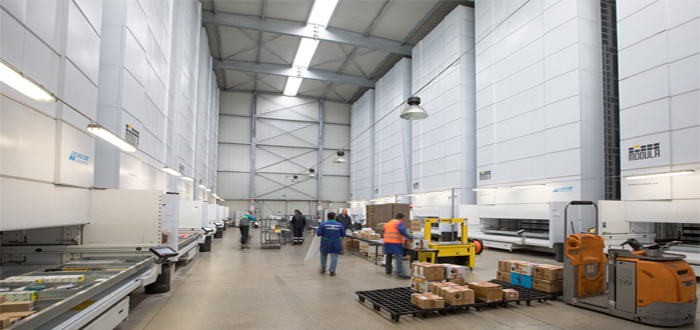 Why expand your warehouse if you don't have to? Modula Vertical Lift Module is the most cost effective storage solution?
For companies looking to improve storage capacity and retrieval of inventory, better organize tools or supplies, a vertical lift module (VLM) is the most cost-effective solution.
VLMs are fully automated vertical storage systems that take up a minimum footprint by utilizing the ceiling height available. These systems allow for large inventory of goods to be quickly accessible while being stored in a safe and secure environment and automatically delivered to the operators.
No more bending, ladder-climbing or walking long distances to search for and store parts or items, as they are brought automatically to the optimum ergonomic retrieval height.
As such, productivity and efficiency are increased while picking errors are drastically reduced.
Modula Vertical Lift Module (VLM) is one of the most advanced dynamic and flexible solutions available. The modular design of the VLM ensures almost unlimited flexibility. The height can be modified and adjusted to optimize the ceiling height, by adding or removing modules. If you change locations or move to a different site, Modula VLM can be adapted quickly to the new height requirements.
Morover, thanks to a height detection system, the height of each tray is measured as the tray is put away, allowing for the densest storage location to be determined in real time, maximizing the storage density within the unit.
Trays can be organized for every type/size of stored item. Thanks to our partitions and dividers, you can create the exact number of storage locations required and their configuaration can be adjusted at any time to accommodate changes in the size or quantity of your stored items.
Every VLM can be employed as a standalone system utilizing our inventory management WMS software or a fully interfaced version to the customer's Host management system.
Get the most performance out of every inch of your manufacturing floor space with Modula Vertical Lift Modules!
Benefits Of Vertical Lift Modules:
• Saves up to 90% of valuable floor space compared to traditional storage methods
• Ergonomic storage and retrieval workstation – items are automatically delivered to the optimum ergonomic retrieval height
• WMS software optimizing inventory control management
• Quick return on investment (anywhere from 6 to 18 months depending on the overall size of the project)
• Scalable design
• Stores a wide range of part sizes (small, medium, large)
• Provides a safe and storage environment for inventory
• Creates new revenue activities by reclaiming otherwise wasted space and labor
MODULA`S VLM CELEBRATES 30 YEARS OF PROGRESS AND INNOVATION
Modula is proud to announce the 30th anniversary of its innovative vertical storage solutions!
It was 1987 when System Group started working on a storage solution able to maximize vertical space. The purchase of a horizontal carousel was the kickstarter of a new project lead by Franco Stefani, owner and chairman of the group. Working closely with his R&D team, he created a new storage solution which proved to be very effective. By making it easy to store SKUs vertically, this product gained immediate acclaim as it allowed users to reduce ground space to up to 90%.
The overnight success achieved in the market brought Modula to further invest in the development of this innovative space and time saving technology. In 1999, Modula introduced the DICO touch screen technology into this line of products. This allowed for operators to interface directly with the vertical lift module (VLM).
The high demand for this new storage equipment motivated the company to further expand its presence worldwide with the opening of a Modula branch office in the USA in 2001, followed by an office in France in 2005 and one in Germany in 2009. In that period Modula established a new production site in Italy solely dedicated to the manufacturing of this storage solutions.
In 2010, Modula launched the flagship Modula Lift which have become the company`s most successful and flexible product. With its innovative features and outstanding reliable performances, it has allowed the company to satisfy the unique requirements of customers in a wide range of industries.
Through constant investment in R&D, the Modula Lift has seen many innovations which have led for it to be marketed in different dimensions and performance levels. In 2011 Modula launches Modula Sintes1, tailor-made for small to medium-sized applications and ideal for storing and picking items such as electronic components, pharmaceuticals, and tooling. In 2013 the heavy-duty model called Modula OneTon, able to manage up to 2,200 lb (990 Kg) per tray.
The global success of these products has further fueled the stellar growth of the company. In 2015, Modula officially opened its second headquarter and production site in North America to better serve customers throughout the USA and Canada with the full-line of products now also proudly Made in USA.
Modula's focus on offering long-lasting and relevant solutions to its clients' challenges has recently led to another innovation in the vertical lift module`s market: the Modula OnePick. This is the latest version of the Modula Lift.
Modula OnePick was launched during the CEMAT Show 2016, in Hannover and introduced to North America during the IMTS 2016 in Chicago. This revolutionary VLM combines the vertical lift module`s technology with a sophisticated automated system for picking and replenishing single products at a time directly from the bay. This breakthrough reduces the margin of error to zero and guarantees the highest level of safety. This important milestone demonstrates how Modula stays one step ahead by listening to customers and responding with concrete solutions.
This year marks 30 years of constant progress and innovation. Modula now counts a growing team of 250 people in 2 manufacturing facilities in Italy and the US, 13 Modula branch offices in Europe, the Americas, Asia and Africa and a wide network of 45 authorized dealers.