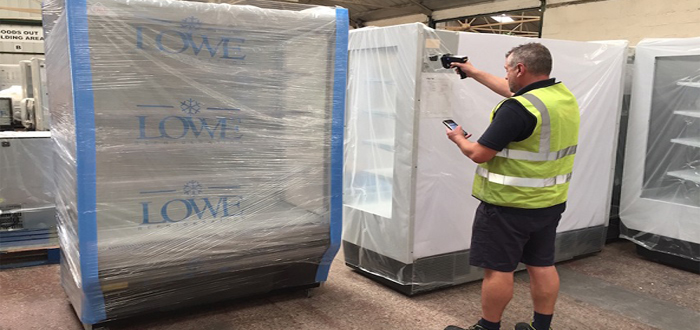 World's leading refrigeration rental company extends RFID system to the USA.
Image
An operator using a handheld reader for Lowe Rental's RFID system
The world's leading supplier of rented fridges, freezers and catering equipment is planning to extend its use of RFID tracking to its US operations.
Lowe Rental, working with specialist consultancy CoreRFID, will roll out the tracking system for its depots in Las Vegas, Nevada and Fairburn, near Atlanta, Georgia.
The decision comes after a successful deployment of the RFID technology at Lowe's headquarters in Lisburn, Northern Ireland and its operations in England, Scotland and Germany over a period of two years.
In September, Lowe Rental began to further extend the RFID system to its Asian depots in Hong Kong, Singapore, Shanghai and Dubai.
The RFID system has saved weeks of staff time and recorded an almost 100% accuracy rate. Previously each item entering or leaving the warehouse was identified by a six-digit code, which had to be manually recorded by staff using a paper-based system. Now the codes have been replaced by RFID tags, which are detected automatically by RFID readers at the exits and the information downloaded to the database.
The new system enables instantaneous reporting and audits, which took one week under the old manual system, can now be completed in under half a day, using a mobile phone reader app which can monitor the tags from up to 2m away.
Lowe rents out over 10,000 items worldwide including fridges, freezers, catering equipment and temporary kitchens and supplies high-profile events from Royal Ascot to the Singapore Grand Prix, the world's largest food and beverage exhibitions and some of the biggest retail stores worldwide. 
European Operations Director Ian Lowry comments: 'CoreRFID's system has transformed our operation. By automating the whole tracking process, it has allowed us to save time and achieve near perfect accuracy levels. The solution works well in tandem with our existing systems. 
'It's a natural progression to roll out the system to our US operations after the massively positive impact it has had in Europe and the potential to make a great difference to our efficiency in Asia.'
Munzi Ali technical director of CoreRFID comments: 'With over 20,000 items which are constantly on the move, Lowe's operations rely on a fast and accurate tracking system. RFID technology fits the bill perfectly and offers huge potential to improve efficiency. The technology is also quick and easy to install and offers rapid return on investment."
CoreRFID develops and supplies RFID solutions for IT asset management, equipment tracking, health and safety and production management purposes. Since forming in 2007, it has built a diverse global client base of over a 1,000 companies globally including London Underground, ICL and BAE Systems.