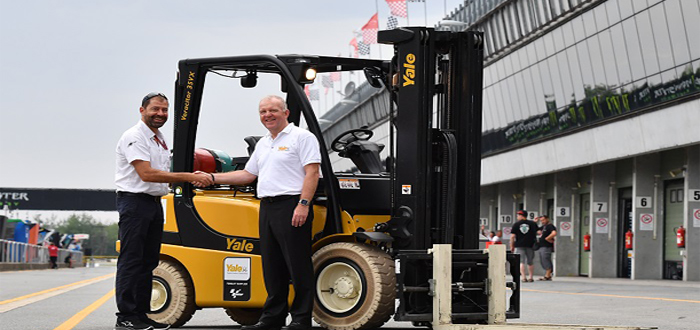 Yale unveils new brand partnership with MotoGP™.
Yale® is excited to announce its appointment as the designated Forklift Supplier to MotoGP™, the FIM MotoGP World Championship. In partnership with local dealers, Yale will supply forklift trucks for six European editions of the 2017 Championship. MotoGP™, long recognised as the pinnacle of motorcycle racing, shares the same innovative, dynamic and technology driven values as Yale.
MotoGP™ is a leading global sport and entertainment brand with huge international appeal. The 2017 series features 86 competing riders from 18 different countries, and reaches 369 million TV viewers and 18 million social media followers. By associating with MotoGP™, Yale aims to take its own technology-led and forward-looking brand to new audiences, and to engage with other suppliers and partners of the Championship.
With MotoGP™ events being held at premier race circuits across the globe, the Championship's organisers, Dorna, require a variety of lift trucks with lifting capacities from 2.5 tonnes to 8 tonnes. These lift trucks are needed for both set up of the event and its subsequent dismantling, as well as supporting operations in the paddock and hospitality areas of the venue. This involves carrying loads such as tyres, engines, fuel, merchandise, food and drink. Yale will be providing its services and short-term rental trucks to the following races:
• Czech Republic (6 August)
• Austria (13 August)
• UK (27 August)
• San Marino (10 September)
• Aragon (24 September)
• Valencia (12 November)
Pau Serracanta, Managing Director of Dorna Sports said, "We are very excited to have Yale on board as our forklift partner. Yale shares similar passions and values that fit in with the excitement and creativity that we have on display at our events. Logistics is an essential part in what keeps the MotoGP™ Championship running smoothly around the globe. We hope that this collaboration can be the beginning of a long and productive relationship between the two brands."
Harry Sands, Managing Director of Yale EMEA said, "When we were looking for a brand partner, MotoGP™ stood out as the obvious choice due to our shared principles and characteristics such as agility, high performance and innovative thinking. We feel that the values held by MotoGP™ align perfectly with what Yale stands for, and we look forward to displaying these attributes in the exciting and forward-thinking environment that MotoGP™ provides."
Yale is one of the longest established, original manufacturers of lift trucks and warehouse equipment in the world, having been in the business of lifting for over 140 years. Yale has a comprehensive range of electric and engine powered materials handling equipment offered in the market, including Yale innovative and versatile AC-technology trucks designed to optimise productivity in customer applications. Such respected heritage and commitment to innovation make Yale and MotoGP™ ideal partners.
The Yale dealer network has over 600 dealers worldwide that are attracted by the unique blend of Yale product excellence and customer commitment, qualities that set Yale apart as it continues to lead the way in the materials handling industry. www.yale.com