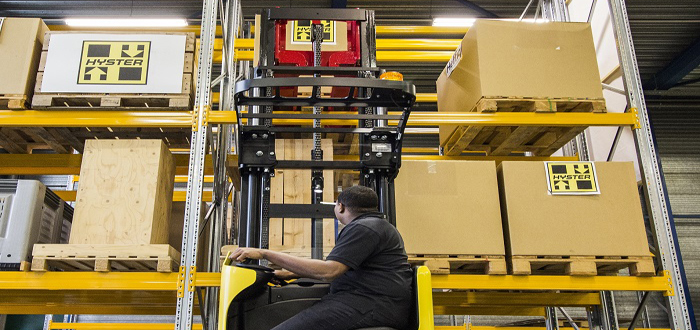 360 DEGREE SOLUTIONS FROM HYSTER EUROPE AT LOGIMAT 2018.
At LogiMAT in Stuttgart, Germany from 13-15 March, Hyster Europe will be showcasing its full range of solutions for warehousing and logistics, from ship to store to factory floor.

360 degree solutions for the logistics chain

At the event, experts from Hyster Europe will be on hand to discuss their full line of solutions to support different customer needs throughout the supply chain, including forklift battery management options and technologies for lift truck automation.

A Hyster® electric forklift powered by an integrated lithium-ion battery system will be on show, providing an example of the many power and charging options that are available to help meet differing applications requirements.

As well as learning about tough and reliable Hyster® trucks and solutions to support warehouse and logistics operations, visitors to the Hyster Europe stand will also find out more about application specific solutions, such as the new low cabin forklift truck option for use in applications such as container stuffing  – just one solution ideal for logistics operations in ports and terminals.

360 degree solutions for the recycling industry

Another example of application specific capability that will be on display at LogiMAT is the Hyster® 'Cool Truck' package for 2.0 – 5.5 tonne Hyster® IC list trucks in the Fortens® range. This has been designed to support extreme operating environments such as paper bale handling, recycling, household waste and other dusty applications, like those found within the metal industry.  The special package, which will be on show at the exhibition, helps extend run time, enhancing dependability.

The experts from Hyster Europe will also explain how tough electric forklift trucks are suitable in recycling applications. The three- and four-wheel Hyster® ranges offer a stable chassis, rugged mast, and durable and reliable components.

Hyster has also engineered special solutions particularly suited to large scale waste and recycling operations, such as a custom container pivot attachment for efficiently emptying containers of recyclable or waste materials.\

360 degree solutions for the warehouse

At the show, a selection of Hyster® trucks to support efficient warehouse applications will also be on display on the Hyster Europe stand, including reach truck, pallet truck and stacker truck options.

This represents just a small selection of the extensive Hyster® warehouse truck portfolio, which includes the RS1.6 rider stacker, ideal for variable demand and mixed applications. A new series of S1.0E-1.2E compact stacker trucks that can lift up to 1.2 tonnes has also launched recently to offer optimal manoeuvrability in tight spaces.
 
360 degree solutions to assist operators

At LogiMAT, there will also be examples of how Hyster can assist lift truck operators for greater efficiency and productivity.  All Hyster® lift trucks are designed with visibility, comfort and ergonomics in mind to assist drivers in delivering optimal performance.

To further support operators, Hyster Europe is exploring and developing an increased range of options to help improve the awareness of lift truck drivers in specific applications, including truck-to-truck, truck-to-object and truck-to-pedestrian detection systems.

Combined with cameras, telematics and other technologies, "connected" Hyster® fleets are delivering greater productivity and visibility. The Hyster Tracker telematics system, for example, can help reduce the cost of operation through increased productivity, cost control and more.
 
360 degree service and support

Hyster® customers are supported by a global network of local distribution partners with extensive product and application knowledge, plus an understanding of the different challenges of 'day to day operations.

With broad geographic coverage, Hyster Europe provides local service and support with the capability to adapt and cater to specific application needs, and to sustain the most demanding operations anywhere.

Hyster Europe is exhibiting at Stand D61 in Hall 10 at LogiMAT at the Stuttgart Trade Fair Centre.