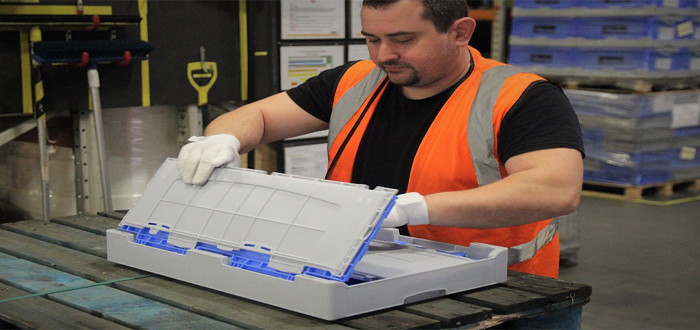 BITO's EQ container fleet returns Parker Hannifin's investment in one year
BITO Storage Systems has provided Parker Hannifin's Engine Mobile Filtration Division with a fleet of its EQ Collapsible containers to replace cardboard boxes in a continuous cycle between itself and a supplier. In addition to offering improved product protection, the cost-saving fleet of BITO containers will pay for itself within one year. This results from eliminating the need to pay for cardboard disposal using a compactor – a time wasting process that previously occupied a member of staff.
Parker Hannifin's Engine Mobile Filtration Division EMEA designs and manufactures engine filtration solutions for leading global OEMs, predominantly in the heavy-duty transportation market.
The end caps for the top and bottom of its fuel filter water separators are supplied to Parker Hannifin's plant in Dewsbury, West Yorkshire by a company in the West Midlands. They were using cardboard boxes that, when emptied of the caps, required disposal. This incurred cost and soaked up time and manpower.
Seeking to reduce supply chain costs, Parker Hannifin sought an alternative to the cardboard packaging in which the filter end caps were supplied. The company turned to BITO Storage Systems, which had supplied plastic containers for other jobs within the company.
After trialling BITO's EQ collapsible container for a month, Parker Hannifin deemed it to be the ideal replacement for the cardboard boxes, leading to BITO supplying 1515 containers. This enabled a fleet of EQs to be in constant circulation: with 500 containers being filled by the supplier; 500 in transit to Dewsbury; and 500 being emptied at Dewsbury before being collapsed, ready to be returned to the supplier in the West Midlands. The remaining 15 containers are held as spares.
When arriving at Parker Hannifin, the containers full of filter end caps are stacked within racking. When required, containers are taken from the racking, the shrinkwrap is removed, and they are placed on dollies to be wheeled into the assembly area. Here three full containers of end caps will sit on inclined shelving next to where operators build a filter. When the container is empty, it is collapsed and stacked ready to return to the supplier.
BITO's EQ folding boxes are made of high quality plastic and feature an ingenious yet simple seesaw locking/unlocking mechanism developed in cooperation with leading ergonomists. The 600 x 400 mm footprint and a height of 285 mm gives a very useable volume of 58 litres.
Other EQ characteristics that appealed to Parker Hannifin included a 20 kg load capacity, which comfortably accommodates the weight of its products. The containers are stackable up to six high but can also collapse to an impressive space saving 75% of volume for the return part of the cycle. Throughout the cycle the containers provide improved protection of the product and stamped with company's name on their side they are easily identifiable. In addition, the EQ's internal label holder keeps label secure within the internal wallet. Parker Hannifin experienced problems in past with labels stuck on the outside of cardboard boxes peeling off.