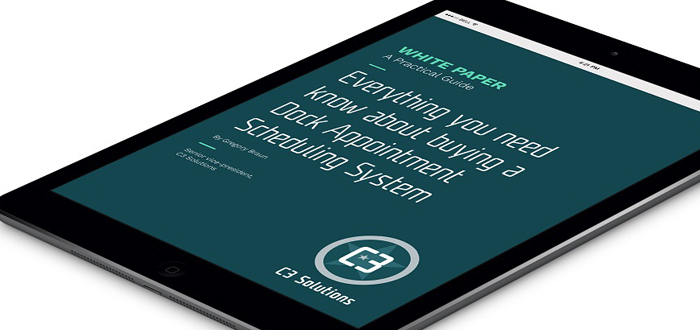 C3 Solutions Presents: Dock Scheduling – From A to Z – A Practical Guide.
C3 Solutions, an information technology company specialized in yard management and dock scheduling systems announces the release of its latest White Paper: Everything you need to know about buying and implementing a Dock Appointment Scheduling System.
Operations can be either a painful mess or an efficient gateway to a streamlined and cost-effective organization. Having a smooth functioning dock appointment system can make the difference between those two extremes.
This practical guide provides real-world best practices for selecting and implementing a Dock Scheduling System:
• Signs one might need some help with dock scheduling
• How to choose a dock scheduling solution
• How to 'sell' it internally
• 10 Tips for a successful implementation
"From pain to gain, we hope that this guide will help take you from identifying the pain points that a dock scheduling system can address, right through scoping, justifying and developing a plan for a successful implementation of one of your operations. ", Greg Braun, Senior VP Sales & Marketing, C3 Solutions.
Your FREE White Paper is available for download here:
Download White Paper: https://www.c3solutions.com/wp-content/uploads/2017/05/Everything-you-Need-to-Know-About-Buying-a-Dock-Scheduling-System-1.pdf