There used to be a time when once your drivers left your yard, you would need the kindness of strangers to tell you how they were driving. Now off-the-shelf technological advances mean you can install a GPS device that records and tracks your drivers' journey right out the box, but there can be limitations.
FLEETLOC8 Sales Director Stuart McLean explains: "Ordinarily, the recording capability of standard "dashcams" can be limited based on the size of SD Card capacity. For longer journey can mean overwriting the recordings and potentially lost footage – less than ideal for business needs. We have solutions that significantly extend the recording capacity up to three days driving (128GB) or a working week (256GB) subject to individual requirement".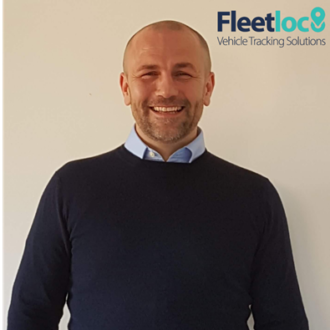 For a limited period, we are offering a dashcam and tracking combo for £12.95 a month across the term of the agreement. That includes free installation, our FLEETLOC8 tracking system and our forward-facing FLEETCAM.
This tracking camera combo deal is an outstanding offer just before Christmas, particularly with the increase of parcel deliveries at this time of year and sadly, despite a second lockdown, the crash for cash fraudsters continuing to prowl the roads.
FLEETLOC8 is our cost-effective GPS tracking solution that we can tailor to function for your business operations. Our technology allows you to track your vehicles and assets, giving you full visibility of your mobile workforce with accurate live and historical data of every journey made.
Transport operators can access information about their fleet from any device at any time, PC, Laptop, Tablet, or a Mobile App. This flexibility provides the scope to manage in real-time with one tap and with live visibility of your fleet at your fingertips, you can keep an eye on your drivers course towards meeting your customer's expectations.
Stuart explains: "Our tracking solution provides concrete, accurate data to measure job performance and accountability. At your fingertips, you can verify a driver's location at any given time. Plus, you can ensure that drivers only use the company vehicle for authorised trips.
FLEETLOC8 allows you to monitor expenditure and validate timesheet and fuel expenses based on how, why, and when the vehicles were on the road. Identify Drivers, zones and critical locations allowing you improve vehicle usage and increase productivity.
With the tools provided by FLEETLOC8, you can improve work planning and vehicle utilisation. More importantly, deliver on time and exceed your customers' expectations.
FLEETLOC8 helps you monitor your vehicles at any time of the day, alerting you for late starts or early finishes, or any out of hours usage. It is alert to all kinds of vehicle or fuel misuse; it also protects against liability in the event of an incident."
Stuart adds: "At FLEETLOC8, we can discuss what is important to you and tailor our vehicle tracking solutions to suit these requirements. Our service is built around your needs and on its own our tracking system costs £9.95 a month to run. Our prices are very competitive and available with continuous support from our highly knowledgeable and experienced team.
There are numerous reasons why you should choose a fleet camera system alongside our vehicle tracking solution. Not only does it provide professional insight into the way drivers conduct themselves on the road, but its clear proof in the event of accident claims, protection against mendacious claims and 'crash-for-cash' scams and evidence of dangerous driving. With its wide-angle lens, it can record in both dark and light conditions all angle of the road.
Stuart summarises: "Dash cam video evidence makes the less tangible, tangible and most insurance companies recognise it as best practice."
Efficient management of claims is imperative and can save money on premiums. So, when a road incident occurs, it is essential to establish fault or non-fault as quickly as possible. Our FLEETLOC8 vehicle camera solutions footage provides critical information allowing fleet operators to determine cause and take the appropriate action.
Using FLEETVISION as a training tool can assist your drivers in changing their driving habits and improve overall performance and prevent future incidents from occurring. It also safeguards deprecation as it monitors how drivers drive the vehicles.
When our tracking and cam solutions work in combination the resulting tracking data fleet managers can use the information and footage to brief drivers on their behaviour when accelerating, braking, steering and help identify areas for improvement. This video tracking helps you not only deliver on environmental care, cutting down on CO2 emissions, and saving on fuel and minimising wear and tear; it can improve your fleet's MPG by up to 20%. More importantly, monitoring raises your duty of care to your drivers and protects the public."
Stuart says: "We can customise camera tracking solutions and build a tailored service to suit your specific needs. Normally, the track and dash cam package cost an affordable £14.95 per month, so it is easy to see our current limited time £12.95 a month deal is a smart, practical choice."