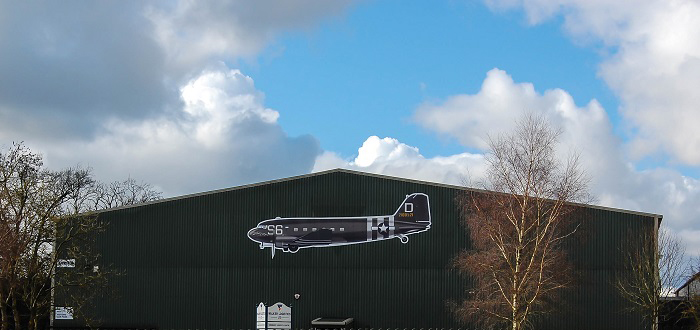 Logistics company will bring iconic WW2 aircraft 'home'.
Logistics services company Walker Logistics is undertaking a unique project to commemorate the role that the Berkshire village where it is based played in World War 2.
Membury Airfield – where Walker Logistics' 200,000 sq ft multi-user warehouse is sited – was the departure point for hundreds of American troops heading for Normandy to take part in the D-Day landings.
One of the few reminders of that history is an image of one of the iconic C-47 aircraft that took off from Membury during the Normandy campaign that dominates the front entrance to Walker's facility.
Now a real life C-47 is being readied for a return to Membury.
The plane was about to be destroyed at an Arkansas scrap yard in 2012 but has been saved and is currently being restored in the Midlands.
"I want to bring it back to 'base' once again," says Charlie Walker, Walker Logistics' customer relations director.
The plan is to have the aircraft fully restored and back at Membury for the 75th anniversary of D-Day in 2019.
And Charlie, who holds a commercial airline pilot's license, intends to fly the historic aircraft 'home' himself.
Charlie Walker adds: "This is an exciting project and we hope that the return of a fully operational C-47 will be seen as a fitting tribute to the men who took part in the allied invasion of occupied Europe in 1944."