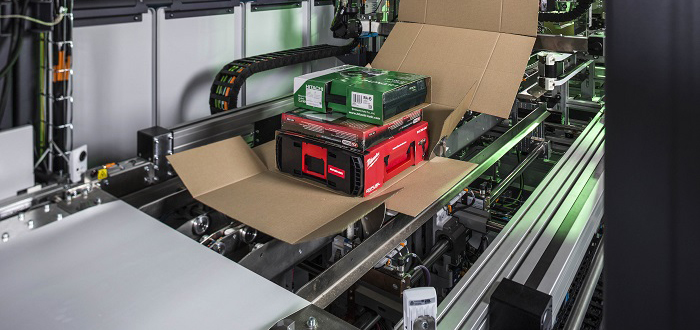 Neopost Shipping packs a punch at IntralogisteX 2019
Neopost Shipping, the automated packaging and postal solutions specialist, will be highlighting the latest advances in its revolutionary CVP-500 'auto-boxing' machine on Stand 600 at IntralogisteX – 26th- 27th February 2019, Richoh Arena, Coventry.
With a capacity to tailor-make 450 packages per hour for multiple or single items, Neopost's fit-to-size packing system offers an automated solution for e-commerce operations challenged by increasing packaging volumes and labour shortages. The CVP-500 effortlessly creates, fills, folds and labels each parcel in one seamless process – reducing package volumes by up to 50%, cutting cardboard usage by 20% and eliminating the need for void fill.
Jo Bradley, Business Development Manager for automated packaging solutions at Neopost Shipping, says: "Many e-commerce businesses are facing a 'perfect storm' of increasing order volumes coupled with diminishing labour availability. Cost pressures too, along with mounting consumer concerns over excessive packaging and large voids around packed items, are leading to a significant rise in interest in automated solutions that can boost productivity in despatch halls. These future-focused businesses are looking for systems that can cut waste, reduce 'shipped air' in transport, and provide capacity for further expansion."
She adds: "This is a critical time for the logistics sector and this is a timely show. We are delighted to have this opportunity to engage with businesses on ways of driving productivity and performance in their packing and despatch operations."
Neopost Shipping has recently installed three CVP-500 machines in the UK and has applications across nine countries. An impressive new video on a UK case study at Internet Fusion Group can be seen at
at https://cvp500.com/case-study-internet-fusion-group/