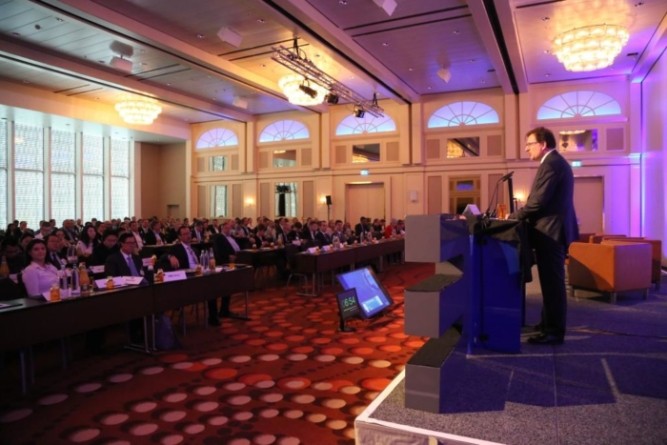 Pharma Supply Chains for the good of the patient
"Central issue of the second BME-Global-Pharma-Supply-Chain Congress is the future of international health care. At the same time around 300 managers talk about how global pharmaceutical Supply Chains may noticeably improve patient care in developing countries and crisis areas." Dr. Silvius Grobosch, Member of the Managing Executive Commitee of the Federal Association of Materials Management, Purchasing and Logistics e.V. (BME) stated in his opening address in Frankfurt on Tuesday. Through this symposium BME, as Europe's leading non-profit professional association for Supply Chain, Procurement and Logistics, will tangibly contribute by providing all participants with an independent, professional platform for global pharma & healthcare Supply-Chain issues.
"As last year we are again able to welcome numerous national and international guests this year. Not only from Germany and Europe, but also from North and South America, Africa and Asia." Grobosch added. The growing number of international guests visiting this 2nd BME Pharma Supply Chain Congress reflects the progressing internationalisation of the association. For many years, and with increasing intensity, BME has supported its member companies in their overseas operations, not only in the area of Supply Chain but also particularly in the area of procurement. BME ensures market transparency and links qualified suppliers with BME members. "This year's pharma congress would also like to significantly contribute here." The BME-Vice-Chairman of the Executive Committee added.
The 2nd BME Global Pharma Supply Chain Congress, like its successful predecessor in February of 2016, will offer two special topics:
1. "PATIENT CENTRICITY" a holistic view, with the patient at its centre, is taken on the entire end-to-end value-added chain. This involves a close look at the progressing digitalisation of the Supply Chain as well as innovative end-to-end solutions, at the same time debating how these partially disruptive changes may improve patient-centeredness of pharma and medical-technology companies and provide patients with additional value.
2. "GLOBAL HEALTH" or "Access to Medicine" emphasises the central role of the Supply Chain as the key function for global access of patients to premium medical care. This issue, by means of Best Practice examples, is dealt with in detail on the first day in the plenary session as well as in the afternoons in specific forum sessions.
The congress continues with a plenary session, lectures and workshops on Wednesday.
Save the Date: The 3rd BME Global Pharma Supply Chain Congress takes place on 26. February 2018.
www.bme.de