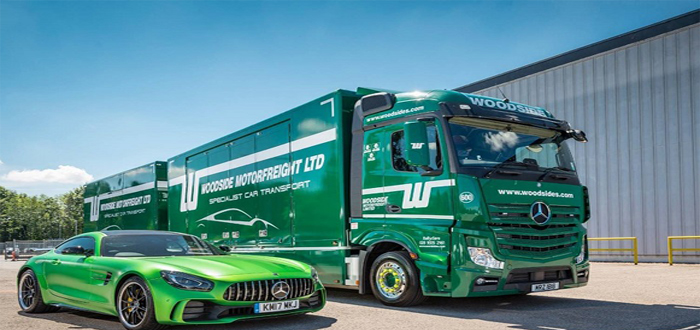 Woodside Motorfreight's new Mercedes-Benz Actros is "the pride of the fleet".
Safety and style were the top of Woodside Motorfreight's shopping list when the vehicle movement company came to select a new fleet flagship for its 'Specialist' service. Its stunning new Mercedes-Benz drawbar unit is sure to make the competition green with envy.
Supplied by Northern Ireland Dealer MBNI Truck & Van, the 18-tonne Actros was specified with the manufacturer's Safety Pack bundle of options, which includes the acclaimed Active Brake Assist 3, Proximity Control Assist and Roll Control Assist systems, as well as a driver's airbag.
"Operating with maximum safety is always at the forefront of our minds," said Managing Director Tim Woodside. "The advanced technology on this new vehicle will make a huge contribution towards accident risk reduction. It underlines our commitment to the protection of our own employees and other road users, and the precious cargoes we carry."
Woodside Motorfreight is part of the Woodside Group, and has been serving the motor industry since 1972. Operating from headquarters in Ballynure, Co. Antrim, the company works throughout the UK and Ireland. It undertakes anything from single-vehicle movements to national distribution contracts, as well as offering storage and pre-delivery inspection services.
The new Actros is an 1836 model with aerodynamic StreamSpace cab and 10.7-litre straight-six engine generating 265 kW (360 hp). Its fully enclosed transporter body is by Dave Bland Engineering, of York, and has space for two large cars. Another pair can be carried in the matching drawbar trailer, which is by Belle Coachworks, of Lowestoft – the combination offers a maximum gross train weight of 36 tonnes.
Although the operator has run trucks bearing three-pointed stars in the past, it has more recently favoured vehicles by another manufacturer. "The time was right to take another look at what Mercedes-Benz has to offer," continued Mr Woodside.
"The Actros looks extremely smart, which is important given that we're carrying some of the most prestigious cars, while we know from long experience that we can rely on MBNI Truck & Van to look after us well."
The new truck is the subject of a five-year Mercedes-Benz Repair and Maintenance Contract. "The whole package represents superb value for money," Mr Woodside confirmed. "Not only is the R&M agreement competitively priced, but the Safety Pack is also highly cost-effective – we'd have paid a lot more for a vehicle by another manufacturer which had been specified to a similar level."
He added: "We're certainly very pleased with our latest acquisition. The Actros is now the pride of the fleet."
Greater Safety is one of the three pillars of Mercedes-Benz Trucks' RoadEfficiency Strategy, and customers for the Safety Pack, which also includes a large, easy-to-read instrument cluster, can make a substantial saving on the price they would pay if purchasing its various components separately.
Although now superseded by the Mercedes-Benz Active Brake Assist 4 system – which adds ground-breaking pedestrian recognition technology – Active Brake Assist 3 still out-performs the requirements of General Safety Regulations that do not come into force until 2018.
Both versions employ radar to monitor moving and stationary objects in front and sound an audible warning when potential for a collision is sensed. If the driver takes no action, the system will apply staged braking, and eventually full braking power, to prevent a crash, or dramatically reduce its effects.
Proximity Control Assist works in conjunction with the cruise control, intervening automatically to restrict the truck's speed and maintain a safe, pre-set distance from the vehicle in front. Roll Control Assist, meanwhile, is designed specifically for air-sprung rigid vehicles. It uses electronically controlled active dampers which adjust constantly to suit road conditions and counteract the rollover tendencies of vehicles with high centres of gravity. This improves ride quality as well as enhancing safety.